Pros and Cons of White Granite Countertops

by Paul Batashev
Updated: June 15, 2021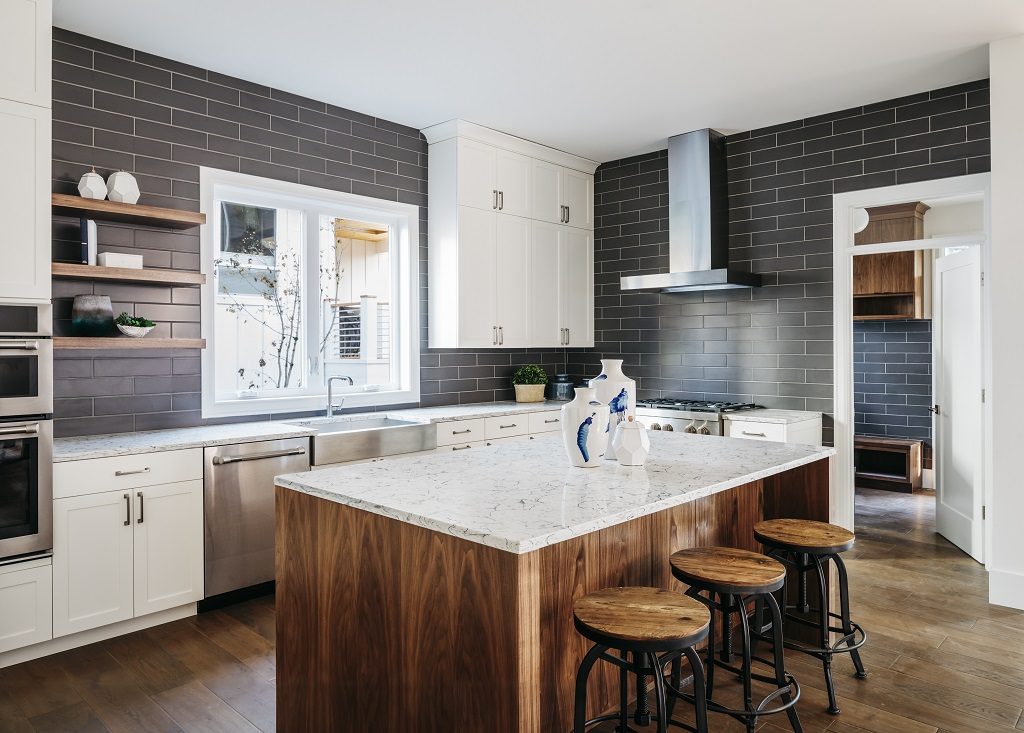 Kitchen countertops can make or break an interior design. Due to the pandemic, the kitchen has doubled up as an office, schooling, and family room. It is a prime location in the home and a place of non-stop use, which begs the question of whether white countertops are genuinely the most practical.
While trends indicate a rise in darker-toned kitchens, white still firmly holds its footing as the front-runner in contemporary interior design trends. Let's review the pros and cons of white granite countertops.
Why Are White Granite Countertops Popular?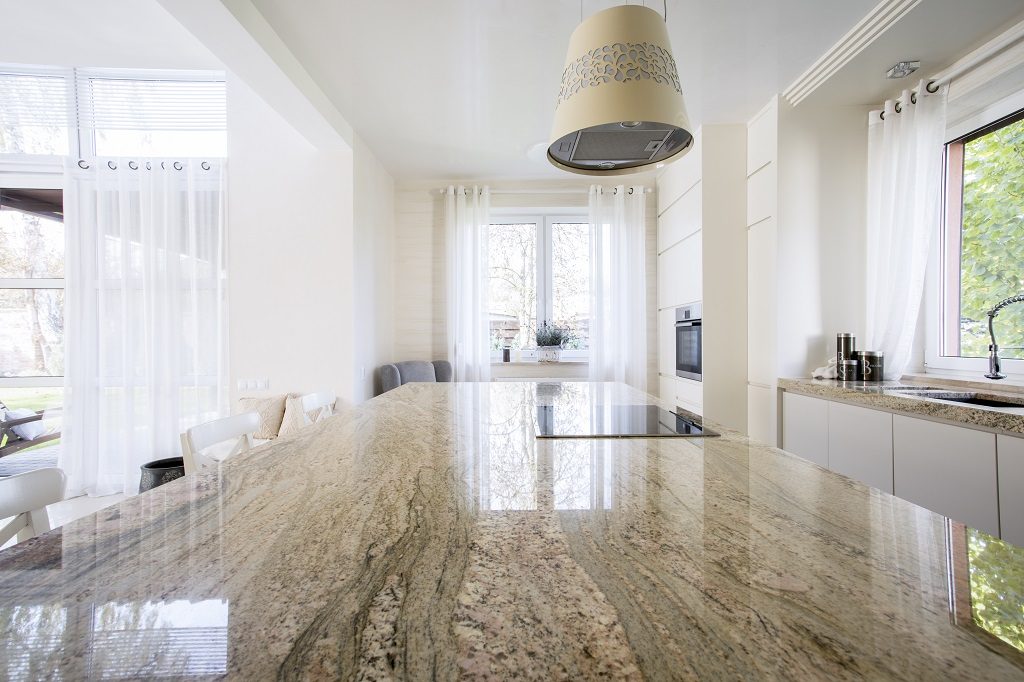 The simple answer is that white granite goes with most things, whether it's fittings, backsplashes, or cabinetry. If you have a family or a heavy-duty kitchen, a pristine white surface may induce hesitancy, but the most popular white granite colors might change your mind.
It's not just the colors; there are many positive attributes that these stones possess, from strength to beauty and timeless appeal. Granite has been used since Ancient Egyptian times, and today its enduring legacy presides. Did we mention that granite is also relatively low-maintenance and easy to clean?
White Granite Countertops Pros and Cons
When weighing up the pros and cons of having granite countertops, the choice resides in lifestyle and budget preferences. First, let's start with the advantages.
White Granite Pros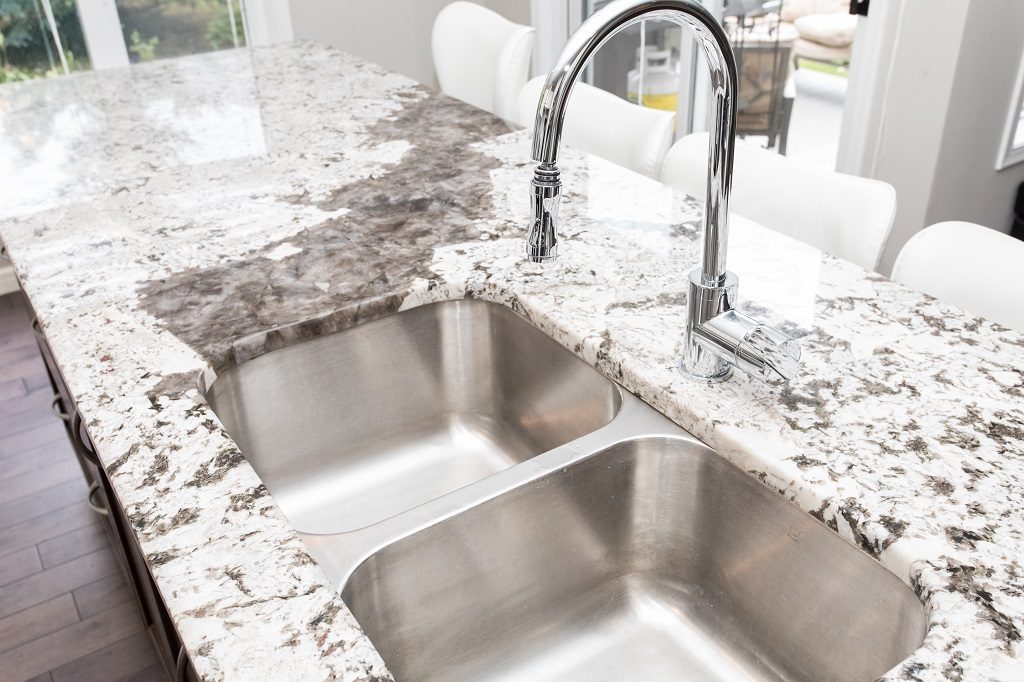 If you love marble but are concerned about its porosity, then granite will present a better choice for you, and that's just one benefit.
Beauty
No two granite countertops look the same because granite is a natural stone. The most popular white granite colors come in a wide range of white shades with soft gray swirls and garnet-colored flecks. Part of the stone's appeal is its imperfect beauty and one-of-kind patterning.
Illusion of Space
White granite countertops reflect light and enhance a sense of space. Including white cabinetry, walls and ceilings create the illusion of a seamless kitchen space without edges or boundaries. Several shades of white can be combined with the most popular white granite to add texture and eliminate sterility.
Compatibility
White countertops combine well with almost any color combination and design scheme. Whether you want a minimalist kitchen inspired by Scandinavian design or a high-contrast black-and-white interior, in most cases, white granite countertops can achieve the look you're after.
Strength
Granite is rock-hard, second only to diamonds in terms of hardness. It is a durable stone that's resistant to heat and other kitchen elements. If well-maintained, some treated granite can last up to ten years without being sealed. While it can crack, this is incredibly uncommon, so you rarely have to worry about your countertop breaking.
Timeless Appeal
Granite was used by the Romans and has been adopted in modern kitchens since the 1800s. Its design potential and expansive color palette have probably contributed to its staying power throughout the years. Granite's sleek surface and durability offer a timeless appeal that outlasts generations.
Stain-Resistance
Granite is impervious to water and minimally porous. While it's recommended that these countertops are managed with care, their sealant generally prevents liquids from seeping into the stone and leaving stains. In general, wear and tear are best hidden on white granite as opposed to darker colors.
Increased Value of Your Home
Countertops fashioned from popular white granite colors can increase the value of your home by up to 25%. An updated kitchen can be a major buying factor when it comes to purchasing your home, especially for first-time homeowners who aren't keen to invest too much in renovations for the initial onset.
Cons of White Granite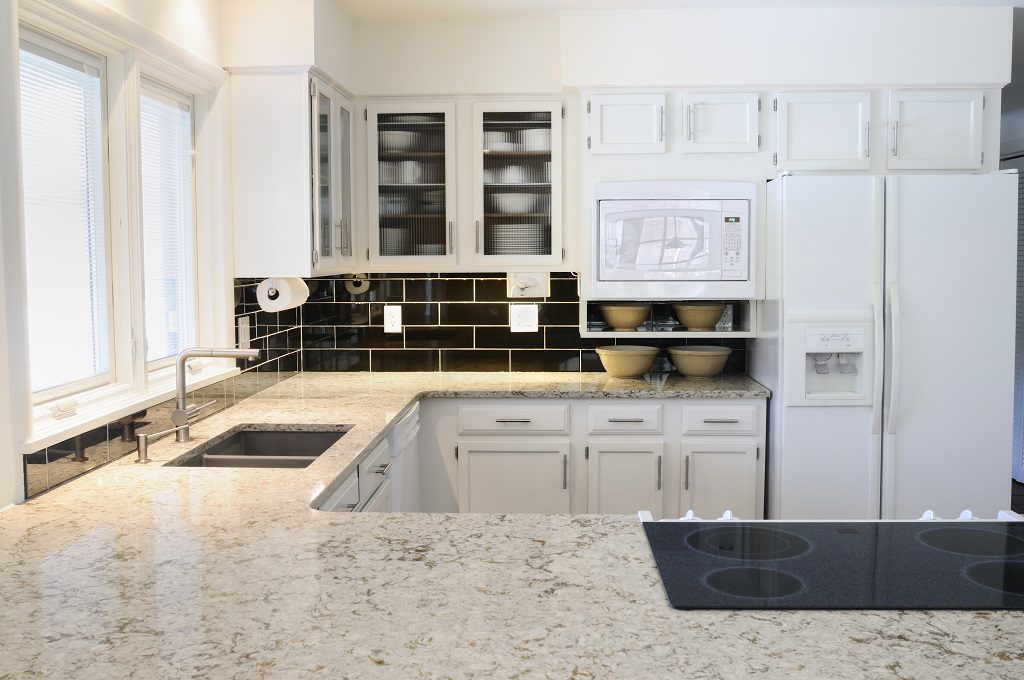 It would be misleading to state that there are no downsides to this much-loved stone, even though they are minor.
Keeping it Clean
The biggest issue is keeping white granite countertops clean. Every spec of dirt is made more visible on a white surface. It takes work to maintain its fresh appeal, which means you have to keep your hands on it. Of course, most times, a simple wipe down will suffice.
Too Sterile
If you're not going for a minimalist, monochrome look, even the most popular white granite can appear sterile and unwelcoming. While it looks incredibly clean, this can be a bit too cold for some. However, white countertops can always be offset by different colored walls, floors, and cabinetry.
Expensive
Cheaper and mid-grade granite is comparable in price to quartz and even some marble. Granite is a heavy stone, which increases labor and installation costs. Countertops made of this stone need to be supported by strong cabinets. If yours aren't sturdy enough, you may have to redo your cabinetry as well, raking up additional costs.
Maintenance Sealing
Granite countertops are sealed to prevent stains and bacterial growth, as well as increase longevity. The frequency of sealing depends on how frequently you use your countertops. Typically, maintenance should be scheduled every 1-5 years. While not something to worry about every day, it does need to be done to prevent etching and signs of wear and tear.
Most Popular White Granite Countertops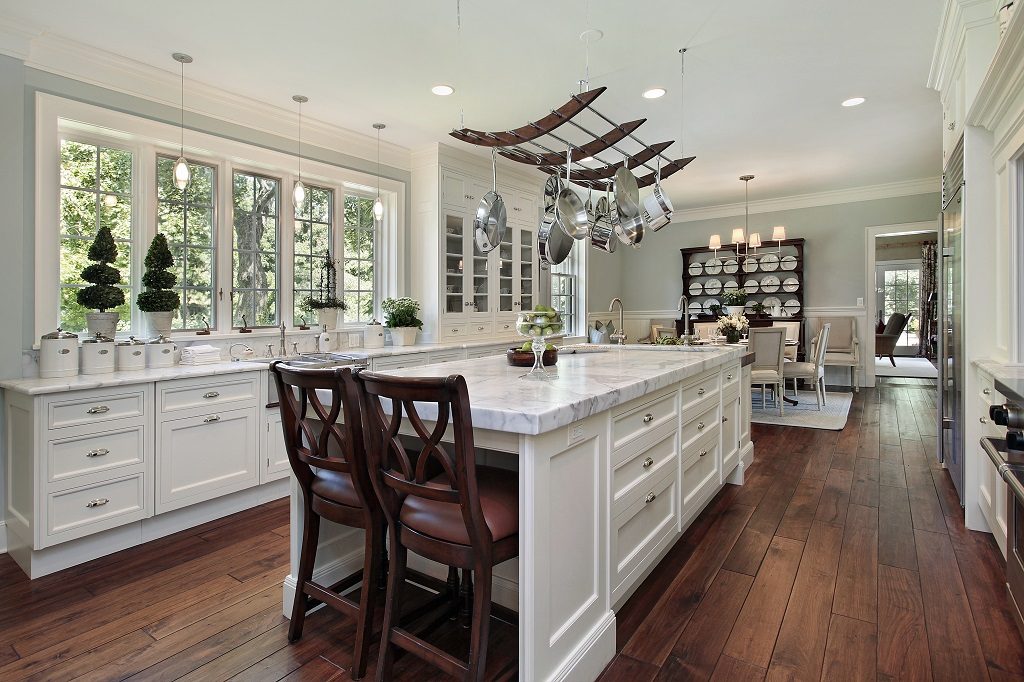 At Granite Selection, we stock some of the most popular white granite colors. These range from low to high-end countertop stones at varying prices to fit all budgets. Our expansive range includes gray-white granite to those with warmer, taupe undertones. Granite stone countertops provide a unique look and feel as no two slabs are alike, nor are they pure white. This stone's distinct veins, flecks, and dots add incredible texture to any interior. Some kitchen designs even turn their countertops into accent features.
Conclusion
As you can see, there are a few pros and cons of having white granite countertops. Overall, white granite countertops provide homeowners with a safe choice that appeals to many, which is something to consider if you're looking to sell at a later stage. At Granite Selection, we have a wide variety of granite stones from which to choose. Our experts can help you invest wisely in your new kitchen. Give us a call at (888) 906 3317, or click here for a fast quote.
About author