3 Things to Know When Selecting a Granite Countertop

by Paul Batashev
Updated: June 08, 2021
Like giant slabs of diamond, granite is forever. Formed under immense subterranean geological pressure, granite is an extremely dense composite of hardy minerals that is virtually impervious to scratches, scuffs, stains, and heat. But granite is also as beautiful as a diamond, if not more so—it is rich and vibrant in hue, with colors and variations that range from abyssal, monochromatic black to regal azure with flecks of semiprecious stones that glint and play in the light. This timeless material has been prized since Ancient Egyptian times to today, where it still decorates palaces, penthouse suites, and state-of-the-art kitchens.
But when it comes to actually bringing a piece of the earth's history into your home, there's more you need to know. Here are some tips from the granite industry that will help you build the kitchen of your dreams:
1) Know your granite
Because granite is a composite of many different minerals from all around the world, it goes by many names that can refer to color, patter/grain, and provenance. It can be a little confusing at first—some styles go by several different names, while others share a name with lower-quality imitations.
This lovely slab, for instance, goes by two names: "Louisa" and "Van Gogh." On the other hand, "Absolute Black" can refer not only to the deep darkness of Indian granite, but also to its dyed imitations from China.
You should also familiarize yourself with common vocabulary used in granite selection. Italian color words and obscure provenances like "Juparana" (a lake in Brazil), accompany more impressionistic monikers like "Motion Matrix" are all par for the course in granite selection. The more you know, the better you can discern the qualities that make granite truly luxurious.
2) Match your cabinets…or don't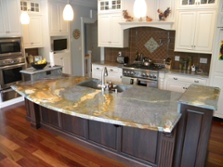 When selecting a kitchen countertop, it's common practice to select a color that compliments your cabinets or trim. It can be overwhelming to have too much of the same color in one room, so it's recommended to match the accent colors of your granite with the cabinets, with the dominant hue introducing a pleasant contrast.
For white cabinetry, try selecting granites such as White Spring, Black Pearl, Silver Pearl, Labrador Green, Blue Pearl, or Sapphire Blue. These all feature busy veins and streaks of color that bring out the calm of a white backdrop. For a kitchen with a darker mood, consider granites with more brilliant pallettes such as Giallo Ornamental, Lennon, Bianco Antico, Bianco Romano, Super White, Golden Crystal, Delicatus, or Venetian Pearl.

3) Forget the middleman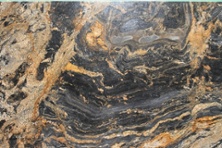 Most granite "suppliers" will sell you prefabricated pieces of granite that they charge for the price of the whole slab. This not only limits the possible uses of the granite in question, it also means you are paying extra for something that is already quite expensive to begin with. If you truly appreciate this remarkable stone, get in touch with a supplier to select a slab you can incorporate into your countertop design. This will reduce waste, save money, and give you greater appreciation for the natural beauty of granite.
Whatever granite you choose, you should absolutely love its looks. Our projects will help you make a choice!
At Granite Selection, we have the largest granite warehouse in Illinois, where you can select from hundreds of stunning varieties from around the world. Our designers work with you to construct your masterpiece from the ground up. Read more about our offerings here.
About author