5 Benefits of a granite countertop

by Paul Batashev
Updated: July 10, 2019
Have you ever wondered why people love granite countertops so much? If you haven't owned one before, it might be hard to appreciate what is so special about this one-of-a-kind material. From its unique, beautiful colors to its durability and prestige, there are practically innumerable reasons why granite is the preferred countertop material around the world. In the interest of time, here's just five:
1) You can actually use it as a cutting board
Although you probably won't use it for this every day, granite is a great food-handling surface. It's hard enough that even the sharpest knives won't scratch it, and it is second only to stainless steel for safety against bacterial contamination.
2) It's the easiest thing in your kitchen to cleana
Cleaning granite is as easy as wiping the surface with window cleaner and a soft cloth. In the time you would take to scrub, rinse, dry, and put away a wooden cutting board, you can use your granite countertop as a prep table ten times and leave it spotless and gleaming afterward.
3) It's unbreakable
Second only to diamonds in hardness, granite will not scratch, chip, or break in your lifetime. Granite fabricators actually use steel-cutting lasers to cut the stone, as even diamond tipped blades wear down too quickly when cutting this stone.
4) It won't stain, warp, or wear
With granite, there's no maintenance, or replacement of any features necessary. If your granite is sealed, you may have to have it resealed every few years. This is a quick and cheap procedure that can be accomplished in an afternoon while you are out of the house.
5) Every granite is beautiful in its own way
It's true that granite is a very practical material for a countertop. It's incredibly hard and strong, and it can even add resale value to your home. What's more is that it's also one of the most beautiful materials in the world, flecked with gems and precious metals in vibrant swirling patterns. Granite comes from all over the world, and every slab is unique. Check out our granite selections here.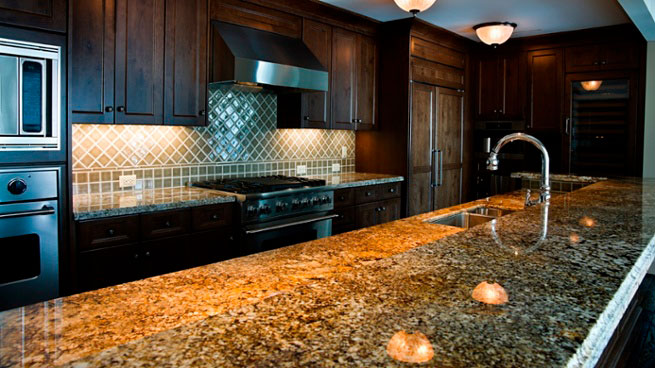 About author