OVER 14,000 SLABS IN STOCK
The Largest Selection of Kitchen Granite, Marbel and Quartz Countertop Stones in Chicagoland
We specialize in quarts and other natural stones. Our services range from precise measurement to professional quartz slab fabrication and in-home installation. We continuously strive to provide outstanding customer service and promise to only install the highest quality quartz, marble or granite countertops in your home.
Paul, President
Our approach
Price
No Hidden Fees — Guaranteed

We Offer The Best Prices For Granite, Marble and Quarts Countertop Stones In Chicagoland

As A Wholesaler, We Bypass Expensive Middlemen To Give You The Most Competitive Price
See our specials

→
Selection
We Carry Over 14,000 Unique Slabs Of Stone, In Over 400 Stone Colors, In Our Elk Grove Warehouse

We have Over 1000 granite and quartz remnants in stock

We Are Continuously Receiving New, Unique Stones

Our Customers Have Access To The Most Notable Quartz Brands On The Market
See all stones

→
Quality
We Utilize High-Precision Laser Estimate, and Advanced CNC Cutting And Polishing Technology

Our Professionally Trained Countertop Installers Have at Least 10 Years of Experience

We have Installed 5,000+ Countertops In the Chicagoland area with a 99% Customer Satisfaction Rate
See our process

→
Are You a Contractor?
Buy in Bulk!
Contractors, find out how to save money with Granite Selection by buying in bulk through our expansive and affordable bundles and Volume Discount Pricing programs.
Learn More

→
They did our kitchen counters and island in November and we were so happy with the quality of the installation and the beautiful granite that we had them do our 2 bathrooms in January. Again, we were happy with the results. I informed them of some minor issues and they immediately came out and made the corrections, no questions asked. They have quality materials and do quality installs. I recommend them without hesitation..
Bradley Lipman
We are so pleased with our experience with Granite Selection! Remodeling our kitchen after 26 1/2 years was a bit overwhelming but Granite Selection made the counters a breeze from the minute we walked in their door until the installers left our house. I love my counters! So beautiful and I feel we got a great value for our money. I highly recommend Granite Selection to anyone thinking about counters!
Mary Gauden
I absolutely Love my new granite countertops. I am totally impressed by the whole team at Granite Selections. They exceeded my expectations with excellent service and quality from start to finish. From the sales/office team, picking out my slab, accurate quotes, in home tailor measurements, quick production time, and professional installation of a beautifully flawless granite countertop I am truly impressed and will definitely tell anyone I know to use Granite Selections.
Denise Malek
The Granite Selection staff were excellent to work with; friendly and very knowledgeable about there products. Paul was meticulous with his measurements and discovered a potential problem with spacing that was missed during cabinet instillation concerning my dishwasher. I am very happy with my beautiful granite countertops and with the attention to detail by the staff and installers. I would definitely use them again.
Ilona Hagen
My brother and I paid to get our knew kitchen granite counter tops installed by Granite Selection around a month ago and we keep being satisfied for the result because this kitchen experts really know how to do a good job with excellent materials and with a very professional crew. We recommend this company to all people!
Mike Goldfarb
Just had quartz countertop installed in kitchen. Extremely happy with everything. The ladies Zoe and Julia in office were very helpful and patient with helping me choose the color. The guys who installed were so nice and did a beautiful job. They were very careful and precise when installing. Thank you!
Jessica R.
They helped make our dreams come true. Some of our ideas they were honest with us and said it would be unstable and dangerous. Where other companies would have just done it and collected the custom $$'s. The designer who came out to measure was unbelievable and gave us several choices of custom shaping on his computer that would fulfill our vision. Couldn't be happier all around. Extremely professional in every step of process. Delivered and installed on time and on date. Very clean and respectable of our property. OHHHH, and by the way they came in several thousands of dollars less than 4 other quotes. Thank you granite city. I will be back very soon for bathroom vanity tops
Robert M.
Just had our granite installed in our townhouse and are very pleased with the results. We stopped by their showroom when we were looking for quartz. The representative was helpful and made great recommendations based on the drawings we had of our layout. An appointment was scheduled that day for only 3 days later for measurements. We had no problems, everything was done on time and all of our questions were answered on the spot! We received a quote that was very reasonable and within our budget. We are very happy with the outcome!
Luiza R.
I am a new home owner who never in my life thought I could afford granite counter tops. I found Granite selection on Google and decided to give them a call. From day one everyone was extreamly helpful through the process. The installation techs we're prompt and extremely professional. The counters look amazing! Thank you so much for making my house a home!
Samantha Barbise
Extremely professional group of people. Very easy to deal with, always ready to answer any of your questions. Did not interface with one employee that ever gave us reason to doubt our choices. They did all they could do to accommodate our schedules, checked & double checked everything along the process, from selection to installation. Highly recommend to any one going through a kitchen remodel as we did.
Dick Geerling
I wanted to have my kitchen ready by Christmas and they have graciously accommodated me last minute to make that happen. I will forever be grateful to Tijana for making that happen!! This is my second time I have selected Granite Selection for my countertop needs. They are an outstanding organization! The service is always friendly, the prices are very competitive and the quality is outstanding. I would highly recommend them to anyone looking for friendly service, quality countertops at a great price.
Alina Burson
Recent Articles
On Natural Stone Countertops Selection and Maintenance
read our blog
Your Granite Countertop Installation Company in Chicago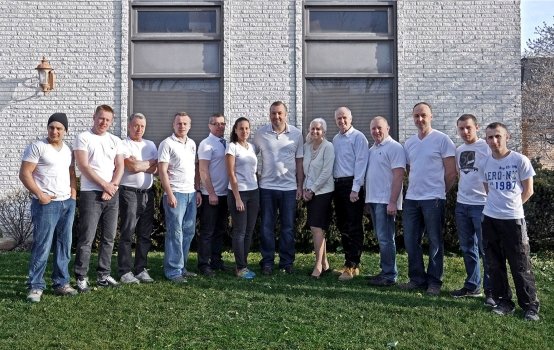 01. OUR HISTORY
Located in Elk Grove Village, IL, Granite Selection specializes in natural stone distribution, design, fabrication and installation of fine custom granite countertops, marble vanities, shower walls, and fireplace surrounds. Our reputation for quality work at affordable prices brings us tremendous business through referrals from our satisfied customers. Check out our Projects page for examples of our work.
About Us

→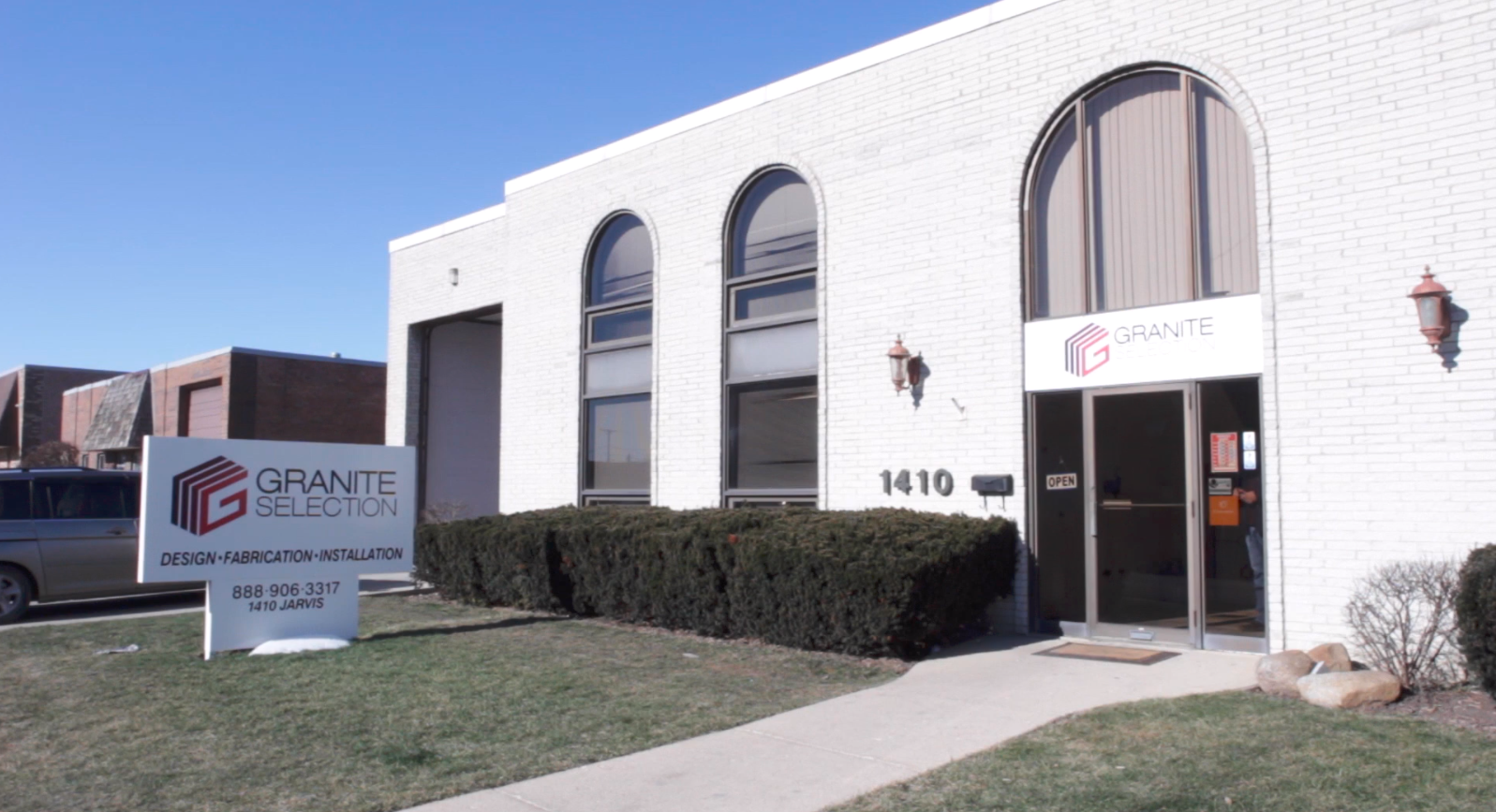 02. WHY PEOPLE CHOOSE US
Digital laser template and estimate
Precision digital water jet CNC manufacturing
Professional installation
A 15-year sealer application, edging, and a single bowl sink and sink cutout.
Awesome online customer reviews. We guarantee that you will be impressed working with our Chicago granite countertop installers.
See our Process

→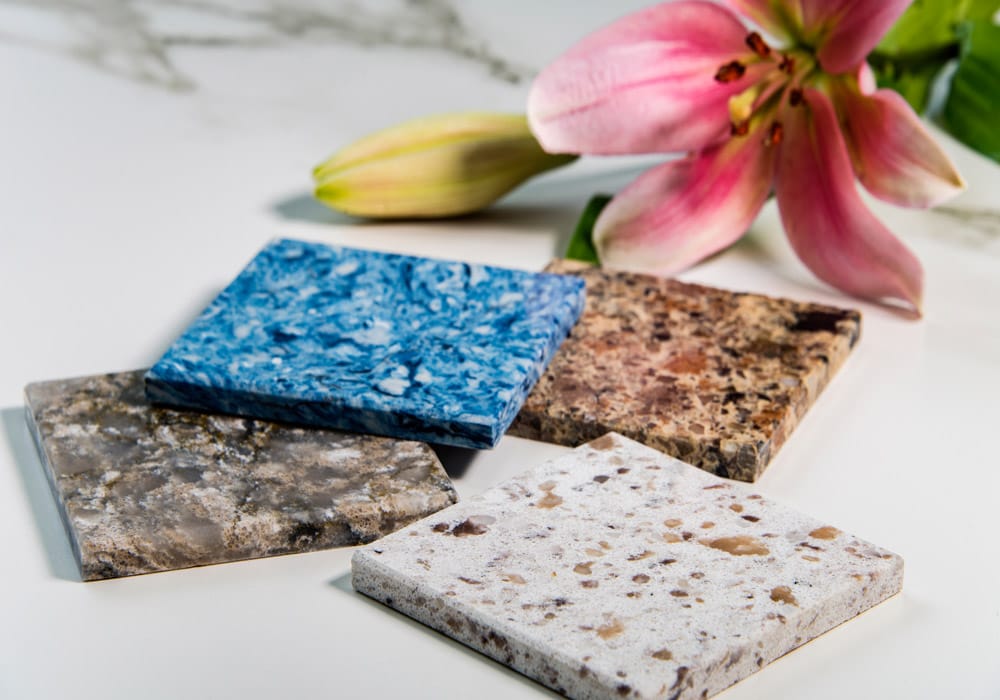 03. BEST PRICE ON GRANITE COUNTERTOPS IN CHICAGO
At Granite Selection, we are able to sell exquisite granite at affordable prices through our close partnership with local suppliers. Our supplier partnerships know that we take great pride in our work and craftsmanship and they understand that, when they work with us, they are working with a qualified company who takes their business very seriously.
See our Specials

→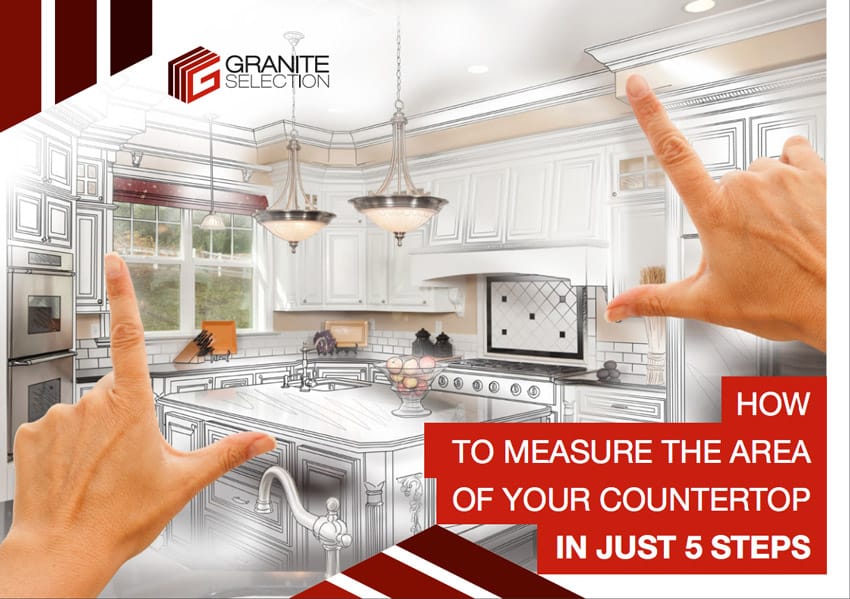 How to measure the area of your countertop in just 5 steps
A brand-new granite countertop is a great way to make your home more luxurious. Before you purchase your custom stone slabs, you will need to measure your countertop to determine the shape and size.
Let Us Help You
Do you have questions about granite or quartz countertops in Chicago?
Request a free consultation or visit our office.
contact us

→
Proudly providing granite countertops in chicago and the following areas