6 Reasons for Professional Granite Countertop Installation

by Paul Batashev
Updated: June 18, 2021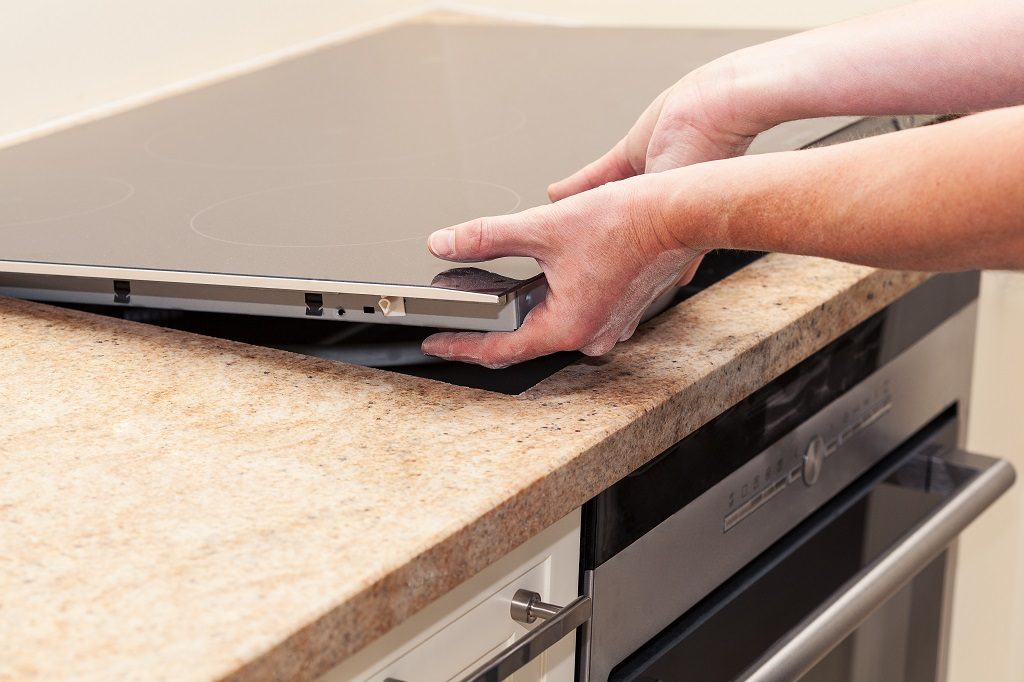 One of the main focal points of any kitchen or bathroom is the countertops. Not only are granite countertops incredibly beautiful, but they don't easily scratch or chip, making them an ideal choice in high-traffic areas.
If you've been considering granite countertop installation but want to complete the task on your own, we recommend reaching out to our professional granite installers instead. Not only are there safety concerns involved, but the process is more technical than you may anticipate.
Why Is Granite The Right Choice?
Before we delve into the details of installing granite countertops, let's first consider why granite is such a popular countertop option in the first place. Granite countertops are completely natural, showing off unique, beautiful details that come straight from nature. You can find granite countertops in different shades, pores, pits, cracks, and chips. Embrace these imperfections and know your stone is one of a kind!
In addition to its beauty, granite is a great choice for countertops because of its durability. These countertops can withstand heat, stains, scratches, and bacteria from causing damage, making them ideal for both indoor and outdoor use.
Once you have visited the Granite Selection showroom to pick out the granite of your choice, it's time to get your new countertops installed!
Think Twice Before Going DIY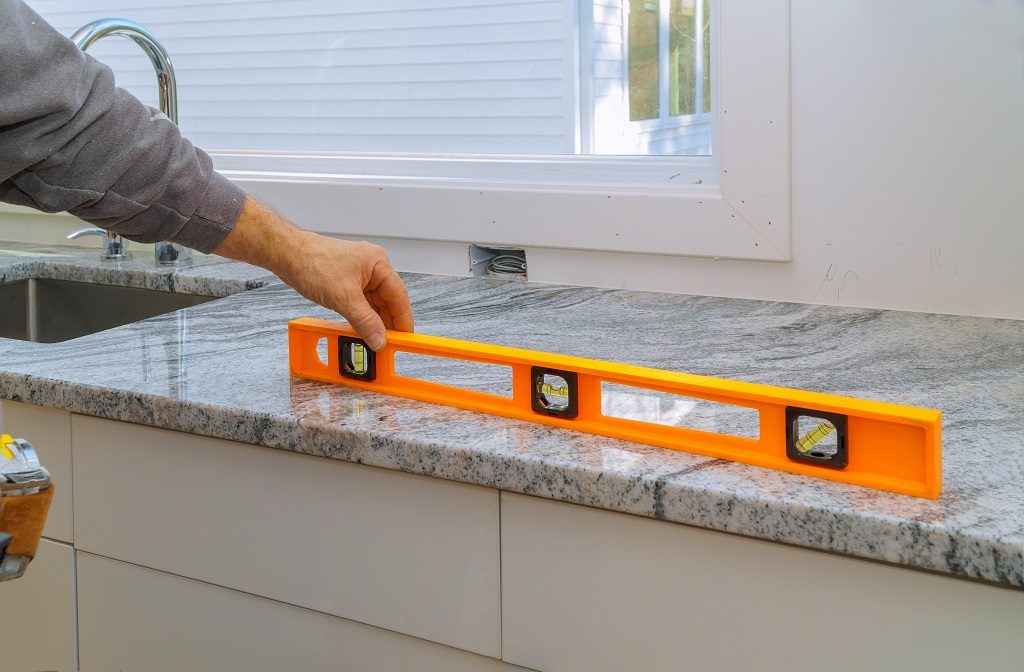 If you're handy and love tackling at-home projects, you may feel tempted to handle the process of granite countertop installation on your own. Countertop installation should always be left to a professional team with the tools and knowledge to successfully and safely install your new counters.
Why Trust Professionals?
Hiring a professional comes with benefits that you won't get if you attempt to install your granite countertops on your own.
Reason #1: Pros Know Exactly How Granite Should Be Transported
Transporting your natural stone into your home is a task itself. Depending on the size of the space that needs countertops, the slab of granite could be large and difficult to maneuver into your home. Plus, doing so may accidentally cause damage to the stone, the last thing you want after making your purchase.
Granite Selection has the tools and equipment necessary to safely transport your new countertops from our showroom into your home without causing damage.
Reason #2: Pros Have the Right Tools
Although it may seem like a straightforward process to install granite countertops on your own, it is more complicated than you may think. Consider the necessary cut-outs for appliances, sinks, intricate angles, or ventilation needs of your space.
Granite is also a popular choice as a backsplash, requiring significant strength and strategy to successfully install. Balancing and supporting the stone is a dangerous task that shouldn't be left to novices.
We use tools such as power saws, filing tools, drills, scribing tools, and a belt sander to execute a high-quality installation. Some installation projects also require previous plumbing and/or electrical knowledge to successfully connect your dishwasher or garbage disposal to your new countertops.
Reason #3: Pros Will Do It Accurately & Quickly
A lot of work goes into transforming a plain granite slab into the perfect piece of functional art for your home. The plain slab that you picked out must undergo measuring, cutting, sanding, polishing, and sealing before it is professionally installed in your home. You likely don't have the skills, tools, or expertise to take care of this promptly.
Attempting to do this yourself can take you a significant amount of time and energy. Plus, it is physically strenuous. Thanks to our team's knowledge and tools, we're able to install your countertops in no time.
Reason #4: Pros Can Answer All of Your Questions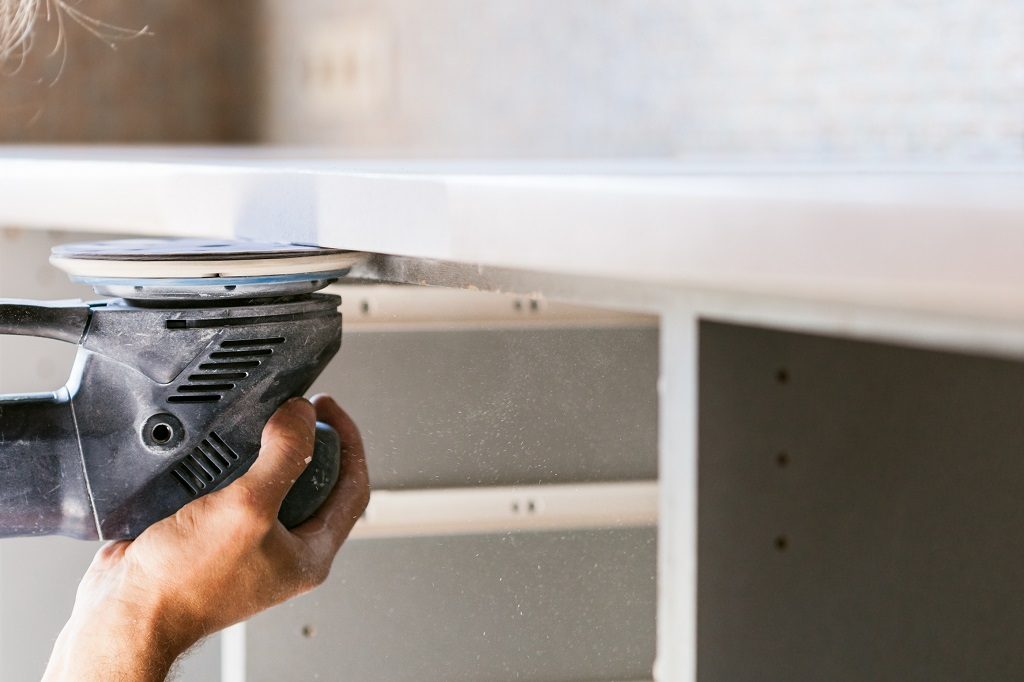 You may have never interacted with granite before, resulting in a list of questions about how to handle the material. When our team finishes your granite countertop installation, you'll have an opportunity to ask them questions to better understand how to care for your material so it lasts for years to come.
For example, you can discuss regular maintenance, how to repair chips, or discuss how often your granite countertops need to be resealed.
Reason #5: Pros Are Insured & Can Guarantee Their Work
In addition to executing a flawless granite countertop installation, professional teams are fully insured in the case that something goes wrong during installation. There is a level of risk involved in each installation as well, and if someone gets injured on the job, insurance will cover it.
Because professional installers do this daily and are highly trained, they bring down the risk level during each installation. If something goes wrong, you won't be held liable for any of the damages.
Reason #6: Pros Will Save You All the Trouble
Let's face it; installing granite countertops on your own is difficult work, and the slabs themselves are too heavy to handle alone. With so many laborious steps involved, such as measuring, cutting, sanding, polishing, and sealing, you likely don't want to deal with all of these tasks alone.
Convenience is one of the main benefits of hiring a professional team to install your new granite countertops. A professional company such as Granite Selection has specialists on standby ready to help execute this task. We'll leave your space cleaner than we found it!
Granite Selection Is Your Professional Granite Contractor
At Granite Selection, not only do we specialize in natural stone distribution, but we have experience installing granite countertops throughout the Chicagoland area. Our high-quality craftsmanship and dedication to excellence shine through in each project we complete.
If you're interested in learning more about our services or if you're ready to book your granite countertop, call us today at (888) 906 3317 for a fast quote.
About author