Best Ways to Check Granite Quality

by Paul Batashev
Updated: November 25, 2020
Granite is a premium material chosen for its durability and intricate designs and patterns. It has a natural volcanic rock origin and is mined from quarries the world over. For this reason, there are chances that the quality of granite may differ. Knowing some techniques and understanding what to look out for can help you choose better. You'd want to do a better job knowing that granite slabs come in an $80 to $150 per square foot price point.
Granite Grades
There is a convention in grading granite to make it easier to classify high-quality material from entry-level material. Some suppliers might use more grades or levels, but the following three are the most common.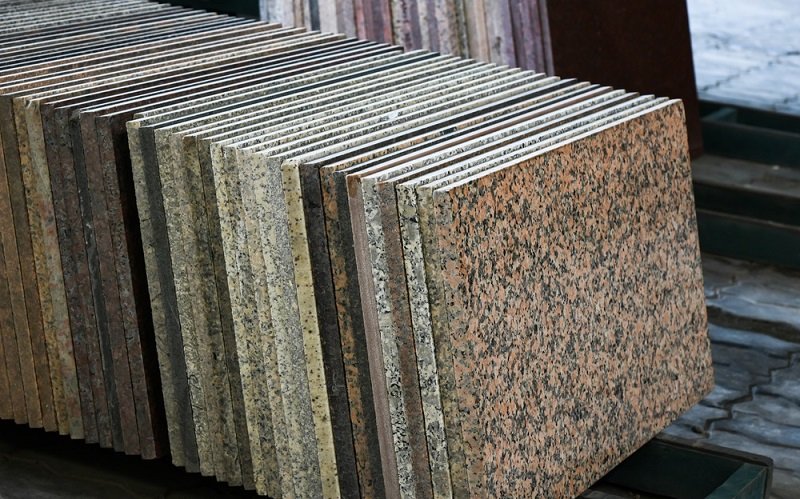 Grade 1: Entry Level (Builder or Commercial Grade)
Grade 1 granite is the thinnest of the group. They may be usually found with plywood backings or some type of support as their thickness alone might not be able to withstand heavy use. They also are pre-fabricated and is commonly used in middle to low-cost housing units. The patterns on Grade 1 Granite are also more simple and the colors more basic.
Grade 2: Middle Grade
Middle-grade granite boasts more patterns and colors. Their markings have more variety too. They are sold as thicker slabs and will exhibit the hardness and durability of granite.
Grade 3: High Grade
This is the best quality granite of the group. The designs are of the rare kind and they may exhibit veins and patterns making them one of a kind. High-quality granite is priced for having sparkling and glittering mineral deposits trapped inside giving it an extra pop.
Appearance
As mentioned earlier, lower grade or more common granite stones have more basic patterns and designs and become more intricate and rare as you go up the price points. The elegance of this natural stone is highly prized.
Aside from the aesthetics, there are other more simple things to consider under the visual criterion. The uniformity and straightness of the top must be inspected closely as it will highly impact the functionality of the granite slab. You must also be on th lookout for any cracks, chips, scratches, holes, and cavities. They may be an indication of poor workmanship when the granite was being cut or poor quality of the stone itself. Either way, steer clear from these red flags.
Porosity
Granite is a naturally porous material. However, steps have been made to make the surface smooth and shiny and less absorbent. Highly porous stones can absorb acids and other chemicals usually found in food that might cause discoloration and other types of damage.
Origin
Most entry-level stones are prefabricated imports from China sold directly to big box stores or high volume importers. They are distributed mostly for commercial use.
Middle to High-Grade Ranite usually comes from India or Brazil.
Thickness
Entry-level granite slabs are sold thin. They usually are ⅜ inch thick and would usually be found with a plywood backing for added support.
Middle and Higher-Grade granite is usually ¾ inch thick although high-grade granite ma be sold thicker.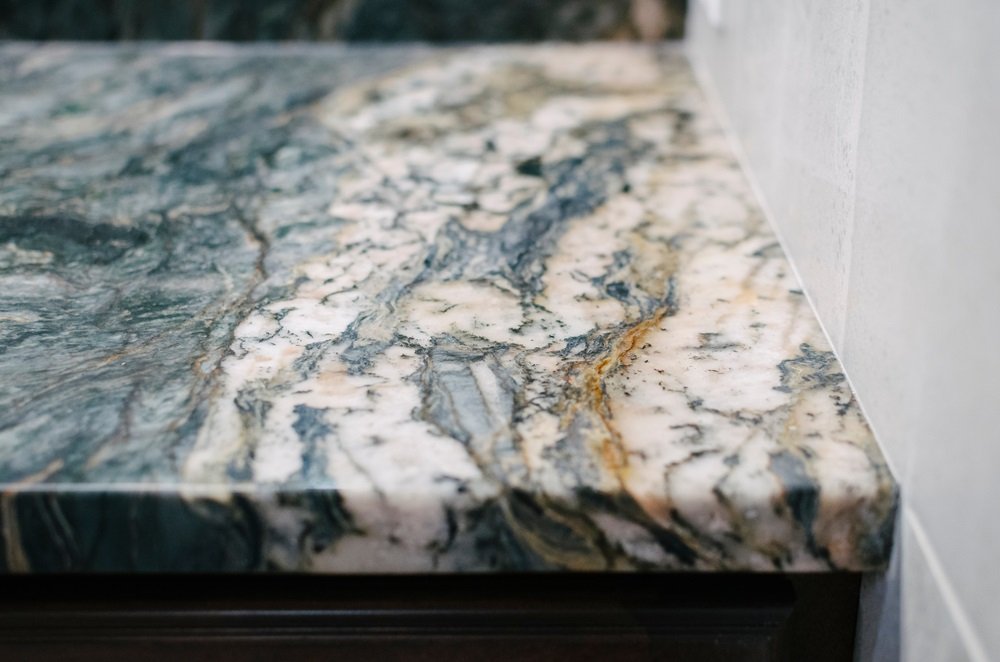 How to Check Granite Quality
It can be intimidating to choose the correct granite slab for a variety of patterns and colors let alone judge its quality. For a first time buyer, this task may be extremely daunting. If you can get a more experienced friend or professional to help, go ahead and do so. To get you started, here are some simple steps that you can do to make sure you choose wisely. It is, after all, an $80 to $150 per square foot investment.
Step 1:
Perform a thorough visual inspection of the granite slab. Look for any blemishes such as cracks, chips, discolorations, scratches, and dings. Also, be on the lookout for the uniformity of the surfaces. Check the edges if they are cut straight. It may be hard to eyeball for a beginner, use a straight edge for reference.
Going up the price points will not guarantee the best design or pattern for your own kitchen. Consider the colors and patterns that would be a fit to your overall design. You might find a high-value gem for a pretty price.
Step 2:
Check the dimensions if they are up to specifications. Do not accept a slab that was not cut to the measurements you specified. It will only lead to sacrifices and problems on your end.
Step 3:
Measure the thickness. Entry-level slabs are sold very thin with wood backing. There isn't much of a difference in thickened from middle to high-grade but high-grade granite can come in thicker variants.
This is not just an arbitrary marker though. The thicker the granite the stronger it is.
Step 4:
Gently brush a coin on the polished surface of the granite to check for polish quality. Slabs that easily scrape may have low-quality polish or sealant.
Step 5:
The quality of the granite can be tested by subjecting it to different chemicals. Granite has a very specific reaction to lemon and can determine a few characteristics for you. If the lemon is absorbed then the material is porous or not polished properly. Leaving a white stain after putting lemon droplets on the surface is an indicator of high calcite content. You'll want to stay away from slabs with these reactions.
Dipping a piece of cloth in rubbing alcohol and then kerosene is also another test. Granite slabs that discolor from this test are colored with artificial pigments and do not display their natural appearance.
GRANITE IS KING!
Bring your redesign kitchen project to life with one of our high quality granite countertops. We have over 200 stones in our collection to make sure you find the right one for you.
Conclusion
At a price point of $80 to $150 per square foot, you would want to make your granite investment worth it. There are simple steps that even a first-time buyer can follow that will instantly put you in a better place when deciding. Another step you can take to improve your chances of success is to go to a trusted supplied of granite slabs.
Granite Selection is a leading and trusted supplier in the Chicagoland area. Known for selling only premium grade material, our stone yard has 14,000 slabs of granite and other natural stones to make sure you find the right one for you. Give us a call (888) 906 3317 and we'll be happy to help. We are located in Elk Grove Village, Illinois, and will service the surrounding 70-mile area.
About author