Increase the Value of Your House by Updating Your Kitchen Countertop
by Paul Batashev
Updated: June 18, 2021
Looking to sell your home but want to make sure you are getting a great bang for your buck? Although you may love that yellow linoleum on your countertop where you once placed your kids while you were preparing dinner, a new family may not find it as charming as you do. And that's okay because you have Granite Selection as a reliable source to help ease your stress and give your home a brand-new look.
A Greater Return on Your Investment
By updating your kitchen countertop, you are sure to increase the value of your house. Most realtors, in fact, say it is one of the first things any new sellers should do when putting their homes on the market. A new stone countertop, a fresh coat of paint, and some new stainless steel would be the absolute trifecta in increasing your homes value. By boosting the value of your home, you will not only make more money in the end but also will help your home sell faster. A new kitchen is an easy to way to catch any buyers' eye. That, combined with the already existing charm of your home, is a sure way to make the selling process as easy and stress-free as possible.
Do it for You!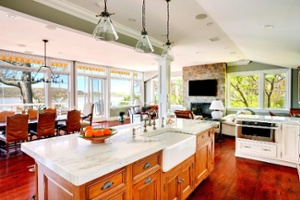 Even if you are not looking to sell right away, updating your kitchen is a great first step in giving your home the extra bang for its buck that you know it's worth. New countertops, in particular, are a standout in any kitchen.
Making It Easy With Granite Selection
With affordable prices provided by Granite Selection, you can make any kitchen look brand new with a beautiful granite kitchen countertop. Granite Selection is happy to give you and your kitchen that added boost. With our Kitchen Design Visualizer tool, you can get a feel for what your kitchen will look from the behind the computer screen. You can even customize with our Edge Design so you can really get a feel for what we offer. We also have price packages formulated to make sure all of our prices are affordable on your budget.
But Wait, There's More!
In addition to the vast amount of stones countertops we offer, we also provide a stainless steel service sure to be the finishing touch on your new countertop. With the addition of the stainless steel kitchen sinks, you'll increase your home even more! By updating your kitchen, your home is sure to stand out and with our one- year warranty as the cherry on top, you will love your new kitchen and so will anyone looking to buy.
About author