Comparing Different Quartz Countertop Brands

by Paul Batashev
Updated: June 18, 2021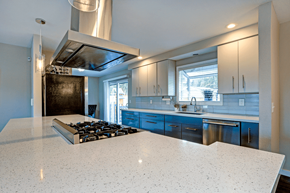 When quartz countertops first started appearing in Europe in the 60's and 70's, it took a while for the United States to catch on to the trend. Since that time, quartz countertop brands have become a symbol of luxury.
Why is that? Quartz is a superior stone that improves the quality of kitchens and bathrooms.
However, the broader adoption of quartz is due to the designs the manufacturers we discuss below created. They also made the product available to a more general swath of customers.
What characteristics do quartz countertop brands share?
Most quartz countertop manufacturers use a similar process for creating the stone. Therefore, all quartz counters have the following characteristics.
#1. Non-Porous Surface
Quartz absorbs less than .5% of the water that penetrates the stones' surface.
Comparatively, granite and marble often absorb between .5 to 2% of water. While the other stones are still non-porous, they soak up more water over time. That can lead to other problems like bacteria and germs contaminating your kitchen.
That is why many homeowners today choose quartz because they know it will not take in as many liquids over time.
Keep in mind that you should still clean up spills on the countertop, so you do not stain the stone. It is good practice for any stone counter.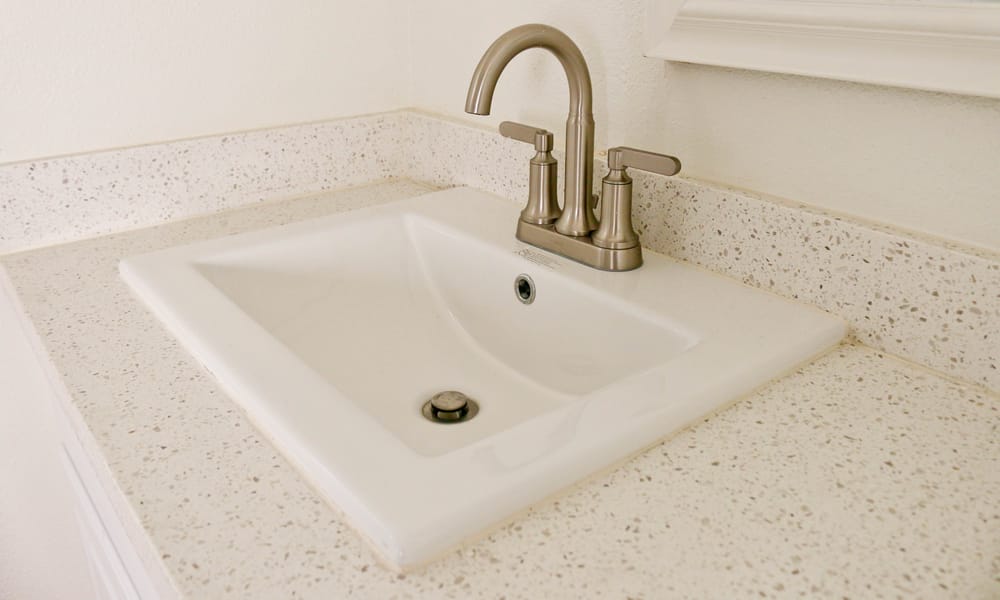 #2. Strong Stone
Quartz countertops have a robust and reliable surface. While other stones like Marble and Granite rely on their natural abilities, quartz composition are roughly 93% raw quartz and 7% polymer resins.
While the amount of resins varies based on manufacturer and brand, what is known is that they make the quartz more resistant to household chemicals and cleaners. This toughness allows the stone to last longer than other natural stones.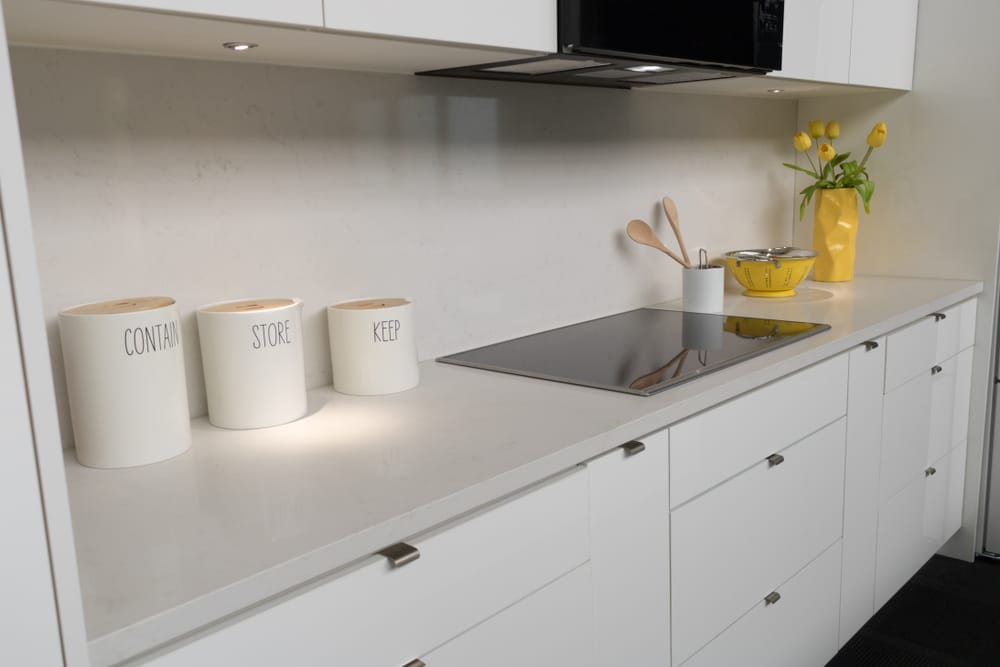 #3. Customizable
Because quartz is the most abundant material in the earth's crust, you can use it to make a wide variety of countertops.
Quartz countertop brands use the diversity of stones to their advantage. Below, we discuss the different designs they create.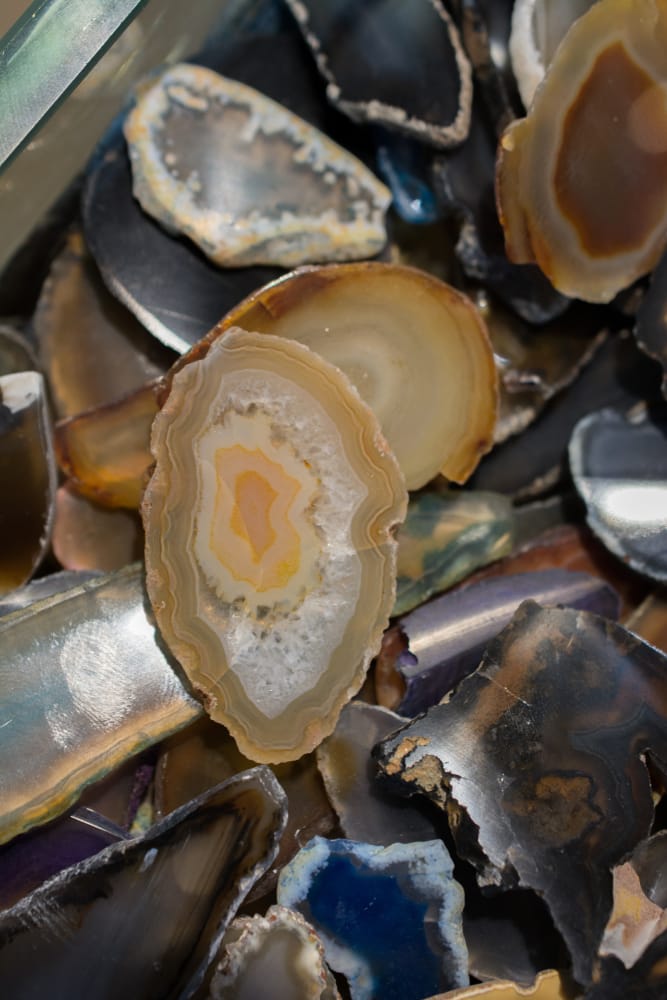 Different Quartz Countertop Manufacturers
While several quartz manufacturers exist, we want to focus on the three principal countertop brands.
We have a few quartz brands that can the kitchen of your dream. Just look at this one!
Cambria never meant to get into the quartz countertop business. As dairy producers since 1936, they saw an opportunity in 2001 to offer quartz countertops.
Within a year of launching the new business, they had over 33 quartz designs. Today they have over 133 designs in a variety of colors as well as 19 different edge patterns.
Still the family-owned company, Cambria stones are 100% American-made. The company offers natural-looking patterns. Many of their quartz slabs come in jumbo sizes. Many installers like the bigger slabs because putting two tiles together leaves a noticeable seam.
Cambria only works with third-party dealers. They do not sell their wares through big box home improvement stores.
Instead, they have agreements with high-quality contractors like Granite Selection. We get access to Cambria brands like the Berkeley, Brittanica, Canterbury (see below), Armitage, and Bellingham.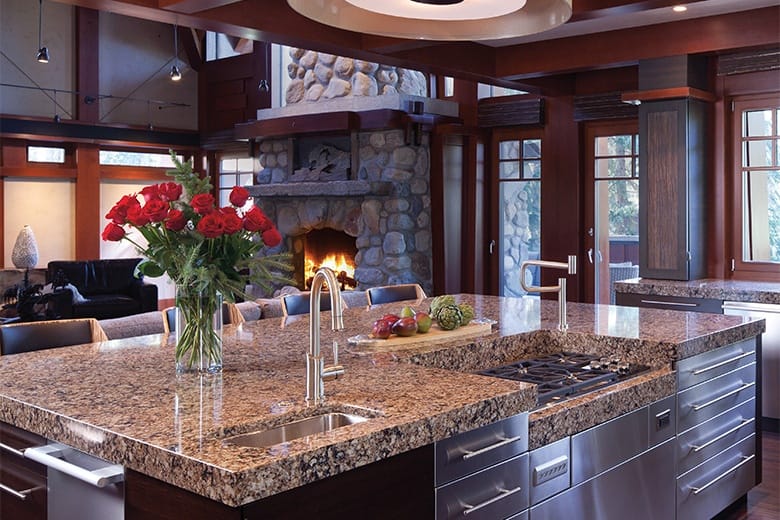 The first company to produce quartz is the Israeli-based Caesarstone. The company started in 1987. Their site talks about how they are the original creator of engineered natural stone countertops.
With only 53 designs and eight edges, they divide their quartz stones into four collections. Caesarstone offers traditional options like Alpine Mist and Fresh Concrete. On the other end, they also have edgy varieties like Quartz Lace and Quartz Black Crocodile. As you can see from the image below, their designs add a simple elegance to any kitchen.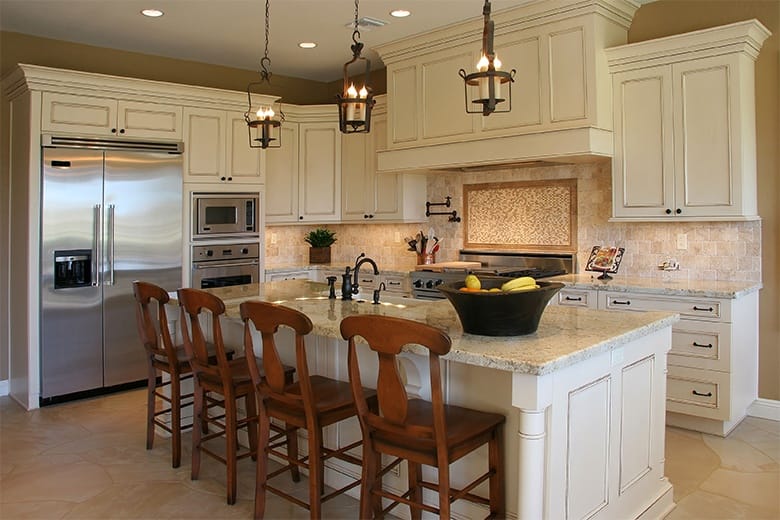 CRAVING QUARTZ BUT CAN'T DECIDE ON A BRAND?
Granite Selection is ready to assist you. Contact us today for a free consultation on quartz countertop brands and we'll help you make your choice!
The Spanish quartz countertop manufacturer has over 142 quartz countertop designs and 15 edges. It is the most extensive collection of the three manufacturers.
They also have the lengthiest warranty of the three quartz countertop manufacturers we discussed. Their 25-year limited warranty is transferable to the next owner when the original owner transfers the warranty.
Silestone quartz comes in varieties like Haiku, Lyra, and Cemento. As you can see below, the stones anchor the visual beauty of a kitchen.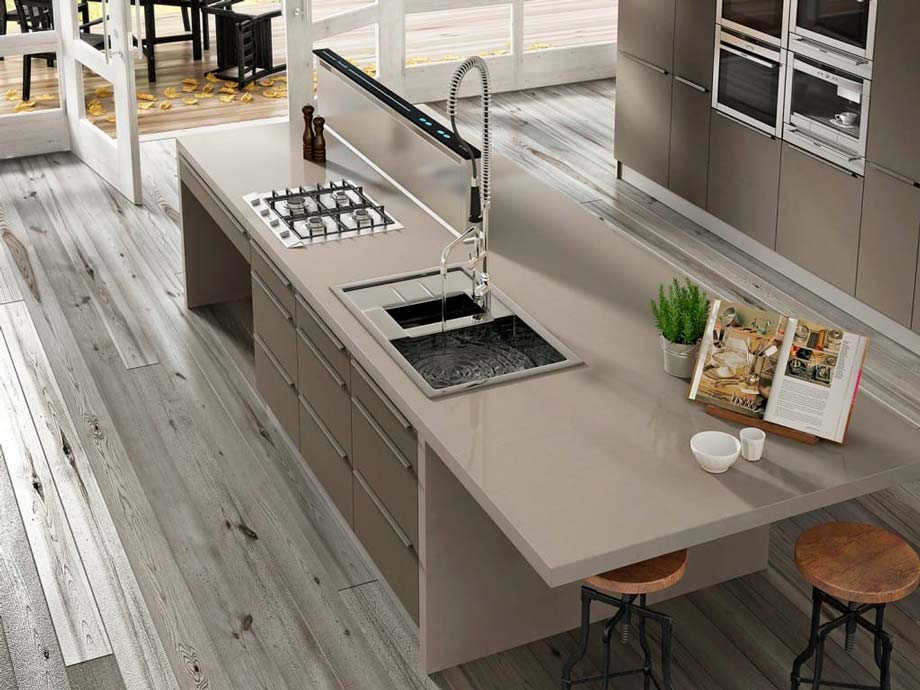 What type of quartz countertop do you want?
Between the three major quartz countertop manufacturers, you should be able to find anything you want. They have 328 designs and 42 edges between them. The key is matching the counter that works best for your needs.
If you need help choosing a granite counter that works best for your home, please reach out to us today at 888-906-3317 for a free consultation.
About author