Average Cost of Installing Granite Countertops in Chicago
by Paul Batashev
Updated: June 08, 2021
Granite countertops have become the standard for newly remodeled kitchens, and they're an upgrade real estate ads often mention in their list of home features. No longer is this gorgeous, strong material reserved just for luxury homes, as customers are realizing that installing granite countertops doesn't have to break the bank.
The cost of installing granite countertops in Chicago in Chicago varies, ranging from $30 per square foot for a very basic granite countertop to upward of $45+ per square foot for exotic granites. The range depends on several factors:
Origin of Stone
Granite is formed by extreme heat and pressure underneath the earth's crust and can be mined in many different countries, including Italy, Brazil, India, Canada and the United States. If you select granite mined closer to home, it will often cost less.
Availability
The price of your granite countertop will vary depending on how much of that particular stone is available. If there is an abundance of the stone, it is likely to be less expensive. The harder to find, the more likely it is to cost you more.
Rarity of Color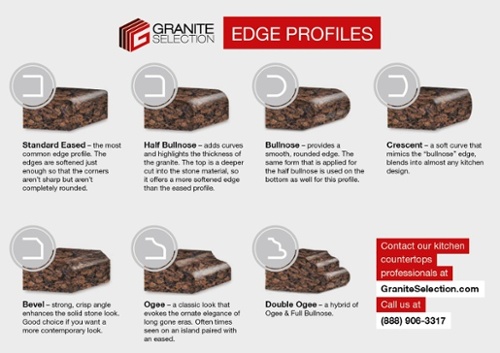 Many types of granite offer a combination of colors, hues and movement. The more distinctive the pattern of the granite, the more likely it is considered rare or exotic and harder to obtain. Therefore, the cost is often higher. There are many granite colors that offer a beautiful mix of color and movement at an affordable price. Granite Selection has a variety of colors that are currently on special at all price points. Popular natural stone countertops colors – Black, White, Cream, Silver
Edging
As with color, the intricacy of the countertop edges profile greatly affects the price. Edges can be formed in Eased, round, bevel, bullnose. The more complex the edge, such as a waterfall or an ogee edge, the more the cost will increase in fabrication than a round or eased edge.
Finish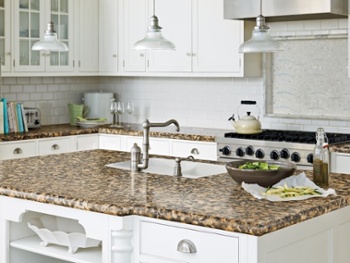 Here are also additional costs that may be added on at the end, such as certain sealers that only need to be resealed after several years. These sealers and finishes are all up to the discretion of the client, of course.
Looking for a granite countertop at an affordable price? We have 200+ stones, including this Black Galaxy granite project!
Whatever budget you're working with, there is a style of granite and package to meet your needs. Granite Selection is available to help with any of your remodeling needs. Visit our website to browse our wide selection of stones or call (888) 906 3317 to schedule our free in-home measurement service.
About author