12 Best Granite Colors for Bathrooms

by Paul Batashev
Updated: September 17, 2021
Granite vanities, countertops, and flooring add elegance and personal flair to bathrooms. Due to their easy maintenance and durability, granite bathrooms are popular across design styles and home types. As a natural stone, granite commonly comes in pink, white, black, and gray variations. If you want this beautiful surface in your Chicago home, you might consider these 12 best granite colors for bathrooms.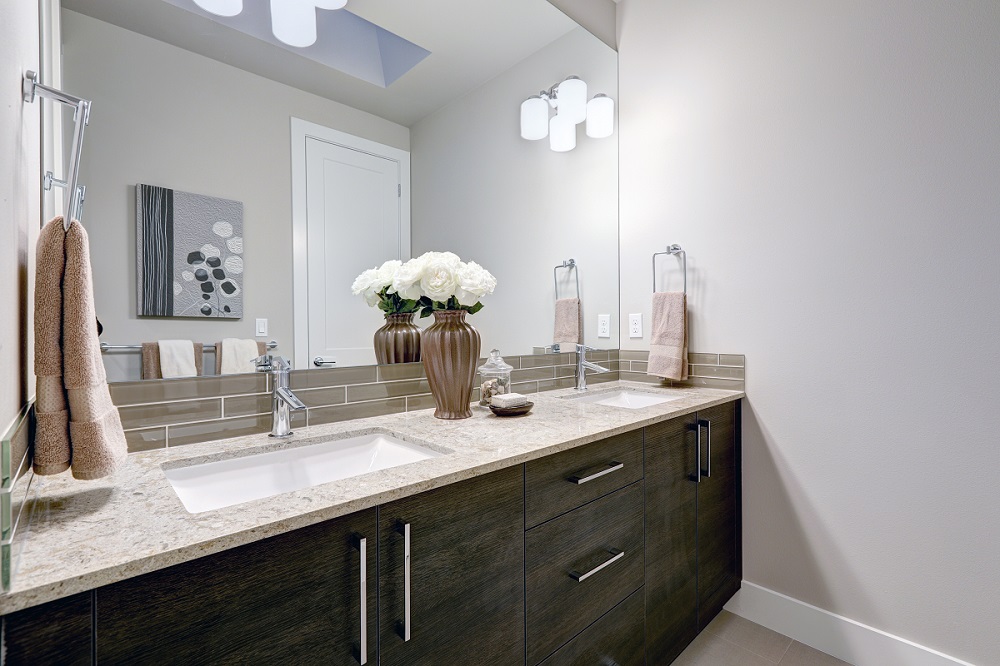 White and Beige Granite Colors for Bathrooms
Like a blank canvas, beige and white granite countertops act as a backdrop to highlight fixtures and features or may even become the room's accent. Below are popular stones used for white granite bathroom countertops: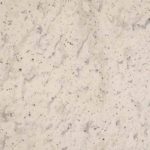 Meet one of our best white granite colors – Andromeda White. Quarried in India, this granite has light gray veins forming small wave patterns with black dots on a white and gray surface. Andromeda white granite bathrooms will have mid-level pattern variation and occasionally deep red-spotted garnets across countertops, vanities, and floors.
Alaska White granite combines pale silver and frosty white with warm neutrals and onyx hues. Imported from Brazil, this versatile white granite for bathrooms is ideal for those whose color palette errs on the warmer side. An Alaska white granite bathroom will complement bronze and brass fittings well.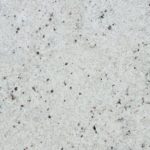 The even patterning of a Colonial white granite bathroom imitates the look of Cookies & Cream. Its cotton-pale gray and black speckles complement dark and white tones, making it the best choice for a white granite bathroom vanity, floor, or countertop.
Black Granite Colors for Bathrooms
Black granite bathrooms are daring and make a bold statement. And, if your bathroom is white, black granite bathroom countertops will provide a striking contrast.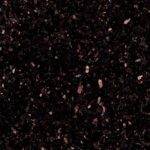 Dotted with small gold and white flecks, Black Galaxy granite makes for beautiful accent walls, floors, and black granite bathroom vanity tops. Sourced from the South of India, its consistent, beautiful patterning makes a subtle statement regardless of where it's used in the bathroom.
Sophisticated and dramatic, Black Forest Granite is boldly patterned with black, white, and gray swirls. It's a great contemporary fit for those who want a strong bathroom accent, as its eye-catching patterns will pull focus no matter where the granite is placed in the room.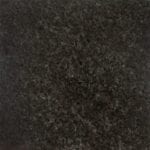 Black and gray with silver, gold, brown, and green flecks, this granite boasts a dense, uniformed pattern with dark accents and deep tones. Black Pearl Granite is the top choice of perfect natural stone fit for bathrooms, exuding simplicity without ostentation.
Brown Granite Colors for Bathrooms
Brown granite colors for bathroom countertops have made a comeback as beige, chocolate brown, and off-white creams have once again returned to fashion runways and the interior design scene.
Chocolate hued with blue and platinum clusters, this coarse-grained natural stone produces unique granite bathroom countertops that offset antique-looking finishes. Quarried from Angola, it reflects light beautifully and is well-suited for granite bathroom walls.
Tan and black speckles with a coarse texture give Topic Brown Granite a rustic edge. This striking granite is a great option for a granite bathroom vanity or countertop, while its rich surface suits both dark and light wood cupboards.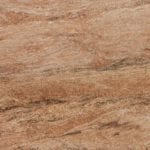 Quarried in India, Astoria granite has a deep cream background with dark chocolate and gray veins. Its cappuccino hue and unique pattern make its surface look like grains of sand blowing in the wind. Its neutral coloring is perfect for bathroom granite countertops with sinks, walls, or floors.
Other Popular Granite Colors
Black, white and brown are not the only granite colors on the market. There are other interesting options for those who desire something a little more unusual but equally serviceable.
Ubatuba granite in bathrooms provides a luxurious undertone with specks of black, gold, white, and light green. Quarried from Brazil, this stunning dark green granite's shimmering speckles work best when used as a statement countertop, accent wall, or vanity.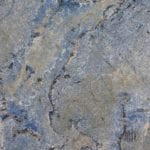 Granite bathroom countertops cost a little more when made from Blue Bahia. If you want blue granite for your bathroom, this semi-precious is a must with dazzling white, gray, and royal blue patterning. Blue Bahia granite bathrooms are truly exquisite.
A creamy gray background, with brown and gray flecks and veining that looks gold, gives this granite an opulent feel. Colonial gold granite bathrooms allow you to bring what you might imagine as a hotel luxury home and goes well with wood, brass, and copper finishes.
Conclusion
If you want to find the best granite for a bathroom vanity or need advice fabricating a granite bathroom sink, you've come to the right place. Our team of professionals has years of experience designing and installing granite in bathrooms. Call us today at (888) 906 3317 to find out more, or see our extensive granite selection.
About author