The Best Outdoor Countertop Material: The Buyers Guide
by Paul Batashev
Updated: May 26, 2022
When it comes to choosing the best countertop for outdoor kitchens, there are many factors to consider. This is especially true here in Chicagoland where the culture is extra diverse. Your budget, desired style, and level of maintenance all play a role in your decision.
In this buyer's guide, we will explore the most popular materials used for outdoor kitchen counters and give you a breakdown of the pros and cons of each one. This way, you'll feel a lot more comfortable next time you browse a Granite Selection. Let's get started!
Quartzite Kitchen Countertops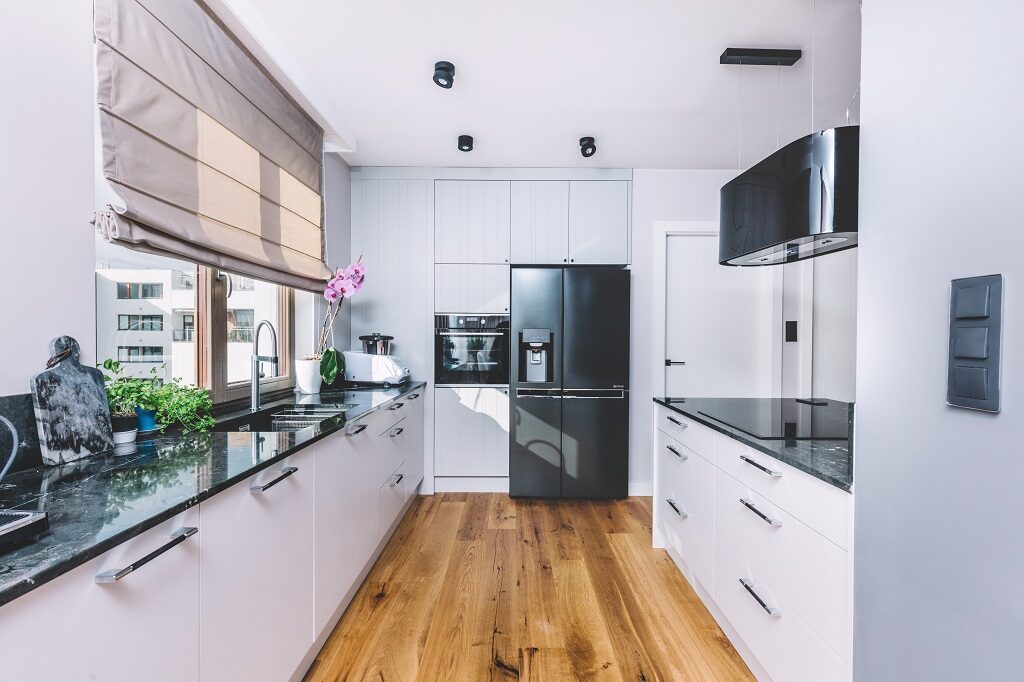 Quartzite countertops are a popular choice for many homeowners when it comes to designing the perfect outdoor countertop space. Quartzite is very durable and is resistant to cracks, scratches, and stains. It also has excellent weather resistance, making it ideal for use in exposed outdoor environments like patios or decks. Furthermore, quartzite offers high levels of heat resistance.
There are also some potential downsides to choosing quartzite kitchen countertops. This material can be quite expensive compared to other options like granite or marble. In addition, due to its durability and resistance to damage from chemical cleaners or acidic foods like lemon juice or vinegar, it may require more maintenance than other materials over time.
Granite Kitchen Countertops
Granite is arguably the best material for outdoor kitchen countertops and a go-to option for many homeowners for a reason. It's durable and heat-resistant, making it ideal for use in an outdoor kitchen. It also has a natural beauty that can enhance the look of your outdoor space.
However, granite kitchen countertops can be expensive, and they require regular maintenance to keep them looking their best. But some people actually enjoy taking care of their countertops. If you're on a budget or you're not willing to commit to regular care, another material may be a better option for you.
Stylish Marble Countertops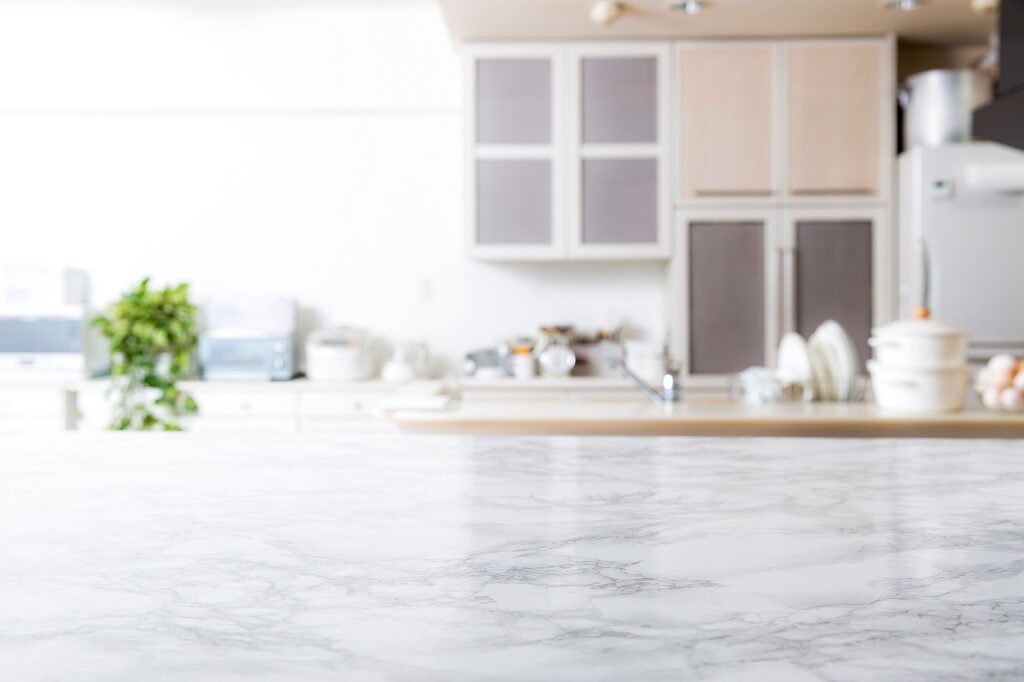 Each outdoor countertop material option has its unique advantages and drawbacks, but perhaps none is as stylish or versatile as marble kitchen countertops. With its stunning aesthetic appeal and range of available finishes, marble has become a favorite for both indoor and outdoor applications.
Do keep in mind that this material does require a bit more care than other options and tends to be relatively expensive. Nevertheless, when it comes to style and function, nothing beats marble countertops. Whether used for food prep or simply as an elegant addition to your outdoor space, marble can be a great choice for any buyer's guide looking to add sophistication to their home or yard.
Soapstone for Outdoor Kitchen
Soapstone is a material that offers many benefits and many see it as the best stone for outdoor kitchens altogether. Soapstone is durable and heat resistant, making it ideal for use in an outdoor kitchen where it may be exposed to direct sunlight or high temperatures. In addition, soapstone is non-porous and resists staining, meaning that it will not absorb spills or oils from cooking.
However, soapstone is a soft stone and can scratch relatively easily. As a result, it may require more maintenance than other countertop materials. Additionally, soapstone is available in a limited range of colors, typically shades of gray or green. Nevertheless, soapstone countertops offer a unique look that can add personality to an outdoor kitchen.
Beautiful Porcelain Kitchen Countertops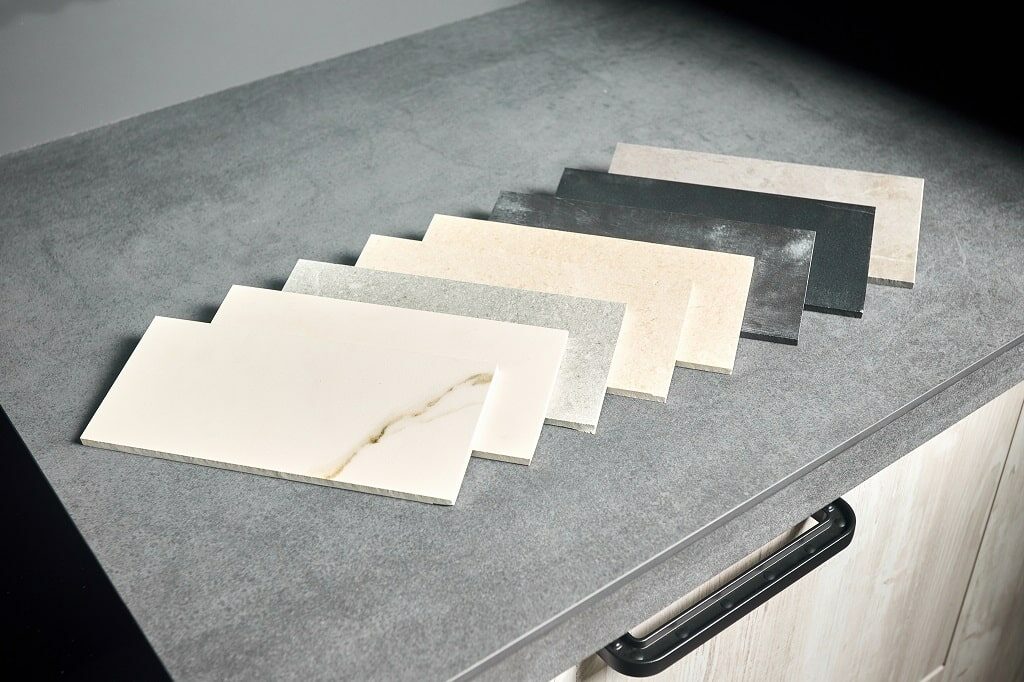 With respect to beauty and durability, few materials can match the elegance of porcelain. Porcelain is a type of ceramic that is fired at a high temperature, making it extremely hard and scratch-resistant. In addition, porcelain is non-porous, meaning it won't stain or harbor bacteria. Porcelain countertops are also heat-resistant and low-maintenance, making them ideal for busy families.
On the other hand, porcelain countertops can be expensive, and they require special care when cleaning. For these reasons, porcelain is best suited for families who are willing to invest in quality and care for their countertops properly.
Slate for Outdoor Kitchen
When planning your outdoor kitchen, one of the most important decisions you'll make is choosing the right countertop material. There are many factors to consider, including durability, maintenance, and cost. If you're looking for a material that ticks all the boxes, the slate may be a perfect choice.
Slate is a natural stone that is famous for its durability. It's scratch-resistant and heat-resistant, making it ideal for outdoor stone countertops. Slate is also low-maintenance – it doesn't require yearly sealing like some other materials. The only downside of slate is that it can be expensive. However, its durability means that it will last for many years, making it a wise investment for your home.
Budget Concrete Countertop
Concrete is a great option for those on a budget. Concrete is one of the most affordable countertop materials on the market, yet it offers durability and a host of other benefits. For example, concrete is extremely heat-resistant, making it ideal for use in areas that experience high temperatures. Additionally, concrete is resistant to staining and fading, meaning it will maintain its good looks for years to come.
However, concrete is not without its drawbacks. It is a heavy material, so it may require reinforcement during installation. Additionally, concrete is susceptible to cracking if it is not properly sealed and maintained. But overall, concrete is a great choice for those looking for an affordable and durable outdoor countertop material.
Tile Outdoor Kitchens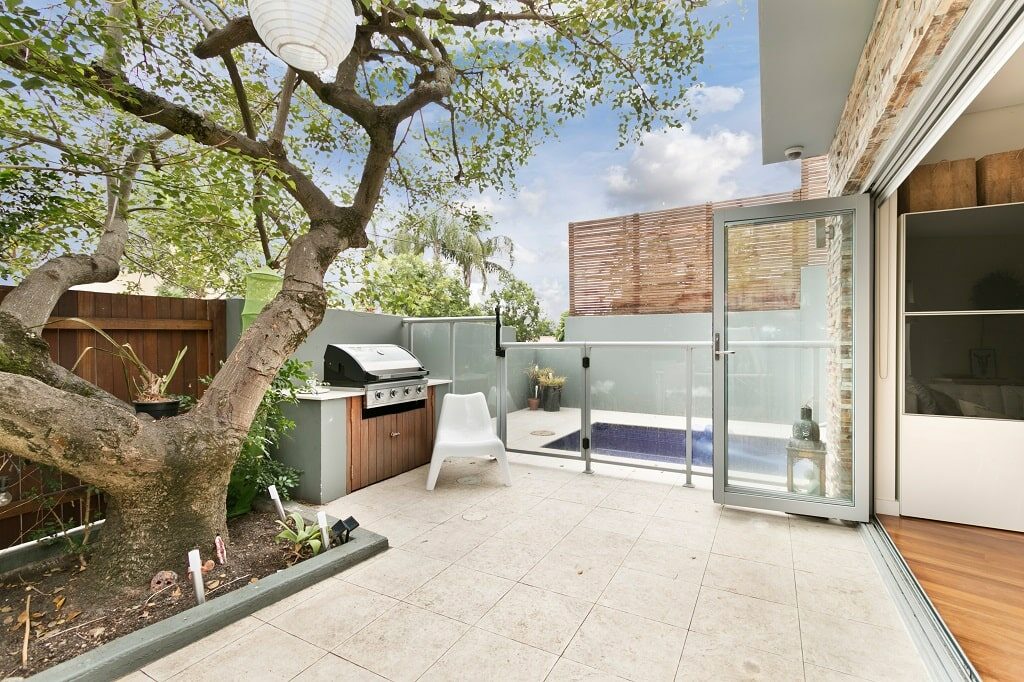 If you live in a hot, humid climate (like what we see in the summer here in Chicago), you'll want to choose a material that won't be damaged by exposure to moisture. A tile is a great option for withstanding humidity and heat. However, it can be prone to cracking if it's not properly sealed and cared for. Additionally, tile can be slippery when wet, so it's not the best choice if you have young children or pets.
Another thing to keep in mind is how easy the countertop material will be to clean. Tile is fairly easy to clean, but it can be difficult to keep looking pristine if it's constantly exposed to the elements. Tile countertops can range from very affordable to quite expensive, depending on the type of tile you select. Ultimately, the best outdoor countertop material for you will depend on your specific needs and preferences.
All-Natural Wooden Countertops
All-natural wooden countertops are one option that has some distinct advantages for buyers who want a sleek, stylish look for their outdoor kitchen or patio. These countertops are durable, heat-resistant, and easy to clean, making them an excellent choice for those who do a lot of cooking and entertaining outdoors.
Wooden countertops can also be more challenging to maintain than other materials like stone or concrete. Wood requires regular sealing and staining to protect it from rot, moisture, and UV damage. Additionally, because wood is naturally porous, spills and small accidents can stain the surface easily if they're not addressed right away.
Conclusion
When choosing the best outdoor countertops available for homes, it's important to consider your needs and preferences. Granite Selection knows there are many different materials to choose from, each with its own unique set of benefits and drawbacks. Ultimately, the best material will be the one that meets your specific needs while also fitting your budget and style. Do some research and talk to a professional in Chicago to get your own outdoor countertop quote today.
About author