Care and maintenance of stone countertops
June 17, 2015
Stone countertops are a durable and beautiful addition to your kitchen, bathroom or floors. However, they cannot stay beautiful without your care and maintenance. It is imperative that you take proper care of your stone so it can reach its full potential and dazzle anyone who comes through your home.
Daily Cleaning of Your Stone Countertops
Hot water and dishrag or sponge is all you need to clean spills and wipe away crumbs to keep your countertops clean throughout the day.
Weekly Cleaning of Your Stone Countertops
Remove all items on the counter and use the granite cleaner over the entire surface to remove dust and debris that collects around appliances, containers, etc. This serves a dual purpose as it also conditions the stone and helps to maintain its overall luster.
Stone Countertop Monthly Cleaning: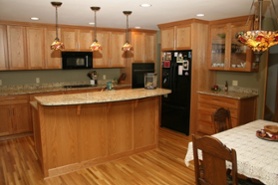 Temporary polishes can be used periodically to enhance the shine in natural stone and granite. These types of polishes are not for maintenance or repair and they are not what make the counter top shiny. Instead, it "enhances" the shine – similar to waxing a car – improves cleaning and provides a small amount of protection.
If your granite countertop have become dull for some reason you will most likely need to consult a professional as no chemical or product will restore damage to a granite surface.
Yearly Cleaning:
You will likely know when it is time to reseal your granite countertops as you will start to see water around the sink darkens the stone instead of beading. This means that the moisture is absorbing and the surface requires resealing.
Sealing Your Stone Countertops:
As a general rule, an impregnating sealer should be applied to all natural stone. This does not mean that every stone MUST absolutely be sealed and resealed throughout its long life. Many types of granite and other stones never need any kind of sealing. If you wish to seal your granite, make sure you always test any type of cleaner and sealer on a small, inconspicuous area before applying to the entire surface in order to achieve desired results.
General Care:
The easiest way to keep your stone looking great is to avoid bad habits that may damage it. Granite, marble, travertine, limestone, soapstone, quartz and solid surface are similar in many ways, but their differences require varying degrees of maintenance. However, if you utilize the Do's and Don'ts of granite countertop care and cleaning procedures you'll eliminate most potential problems.
Countertop Do's:
Blot up spills immediately especially acidic substances like wine, coffee, fruit juices, tomato sauce, sodas and cooking oils.
Clean surfaces using a sponge or soft cloth. Hot water will do for quick cleanups, but using a specially formulated natural stone cleaner is recommended to keep your tops in the best condition and protect the sealer
Dish soap won't permanently damage your granite, but repeated use of soap will cause build-up and dull your countertop's shine.
Use coasters under all glasses, bottles, and cans.
Use trivets and hot pads under pots & pans.
Use cutting boards. Cutting on the stone will dull and damage your knives' edges quickly.
Countertop Don'ts:
Use generic cleaning products such as bleach, glass cleaners, degreasers or other common household cleaners.
Use vinegar, ammonia, lemon or orange as cleaners.
Use bathroom, tub & tile or grout cleaners.
Sit or stand on your countertops.
Store liquids or toiletry products directly on your countertop surface.