Quartz Countertops Colors that Go Best with Oak Cabinets

by Paul Batashev
Updated: May 27, 2021
Choosing colors is an essential part of designing a home – and a kitchen countertop is no exception. Whether it's for a brand new home or your kitchen is just up for remodeling, knowing what color to use on your quartz countertop is a big deal.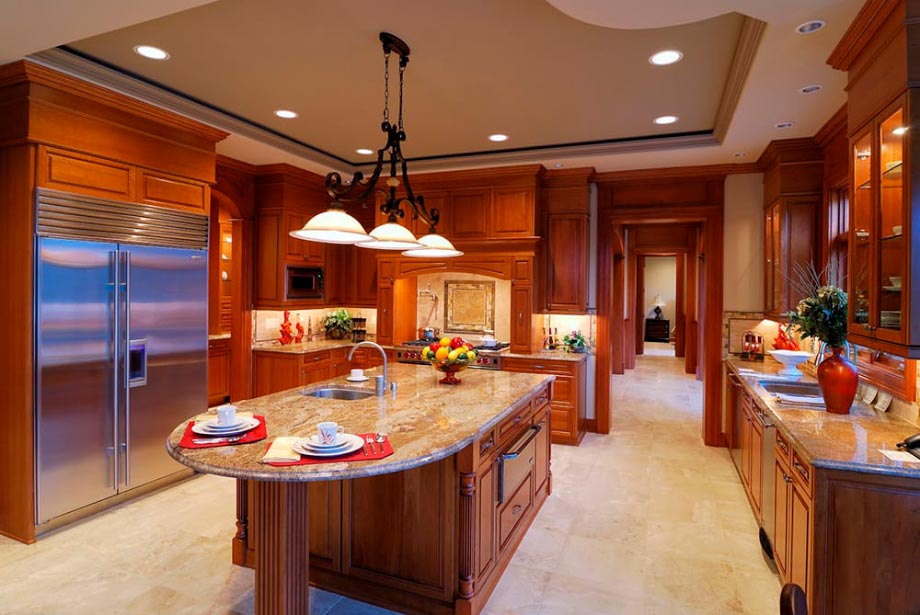 There are many different elements inside a house that you need to consider when designing. Apart from the architectural aspect, the interior design also holds a great weight on the final and overall aesthetics of the home.
In the case of the kitchen, you not only need to consider its design but the colors, as well. Many different elements inside the kitchen need to complement each other. For instance, what quartz countertop colors go with your oak cabinets? Whatever colors you go with, they have to look cohesive and well-crafted – but not too stiff. They have to look friendly and fun without looking too loose.
Today, we are going to look at the best options for quartz countertop colors that go best with oak cabinets – a classic kitchen cabinet design. We are going to explore what colors typically go well with wood-like colors and design as well as countertop colors that complement wooden cabinets to create a modern aesthetic.
Look through our list below.
Light hues of Quartz Countertops
Silestone is a mixture of quartz and other strong natural stones, making it one of the more perfect surface materials for kitchen countertops.
Silestone Lagoon is a countertop color type that gives off a neat vibe. It normally has a near-white base, flecked with tiny spots of cream and with veins of gray. This makes it a perfect neutralizer for the dark tones of other kitchen elements.
Such as the color white is famous for, it helps give an illusion of a bigger space while projecting a neat and modern vibe.
Nearer to a grayish, off-white tone, this color for your quartz countertop can exude an edgy vibe. A kitchen with this countertop can achieve an aesthetic that highly complements oak cabinets.
This color can also help you achieve a granite-look effect for your kitchen. Highly recommended for those who prefer a sturdy look to its busy kitchen.
Looking for a quartz countertop to go with your oak cabinets? Check our Bianco Pepper project. You'll love it!
Another color that helps you achieve a marble-like look for your kitchen countertop is Helix. Filled with veins in dark hues, this color is highly recommended for those that like to exude a traditional yet contemporary vibe in the kitchen.
This color also helps you hide unavoidable smudges and tiny dirt spots during cooking sessions. This gives the illusion that the kitchen is always clean and tidy.
The Lyra is another type of Silestone quartz countertop that is also near the colors Pearl Jasmine, White Arabesque, and Snowby Ibiza.
This means that this also showcases a white base with soft veins of grayish lines. With a polished finish, this color is perfect for busy kitchens that need to hide common kitchen stains. It has a surface that is quick and easy to clean, as all quartz countertops do.
Windermere
What can be better than a combination of oak with another classic – Cambria Windermere quartz. This color goes well with brown cabinets like oak, with its beige base and specs of cream, brown, and gold.
Whether commercial or residential, a kitchen with a Cambria Windermere quartz countertop will most likely give off a homey vibe.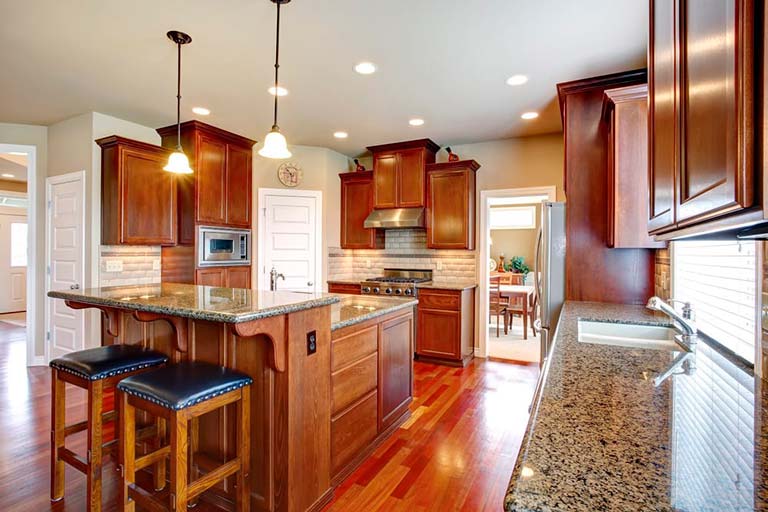 Another quartz countertop that will match your oak cabinet is Taupe.
This design gives off a natural stone vibe and blends with almost any kind of styling. With Taupe as the base color, it is designed with sprinkles of beige and gray all over. This color is perfect for those who like it simple yet stylish.
A Coswell cream quartz countertop is softly veined with hues of brown and sprinkled with gray spots. It is another enduring and versatile color for that dream kitchen interior you are planning.
Also, it compliments light or dark toned walls and cabinets, hence, oak and this color are a perfect match indeed.
If you envision a kitchen with a chic and contemporary appeal, then a haze blend countertop might just be what you need. It fits almost any interior design style especially as a kitchen color, as it exudes classy feminine vibes. Also, this is highly recommended for people who like tones on the neutral side of the color spectrum.
Dark Hues of Quartz countertops
Light quartz countertops hues are perfect for oak cabinets to tone down the color of the oak to create a timeless, stylish look.
But if you are a fan of darker hues, don't worry.
Instead of toning down your oak cabinets, highlight their beauty and elegance with a sleek, dark countertop.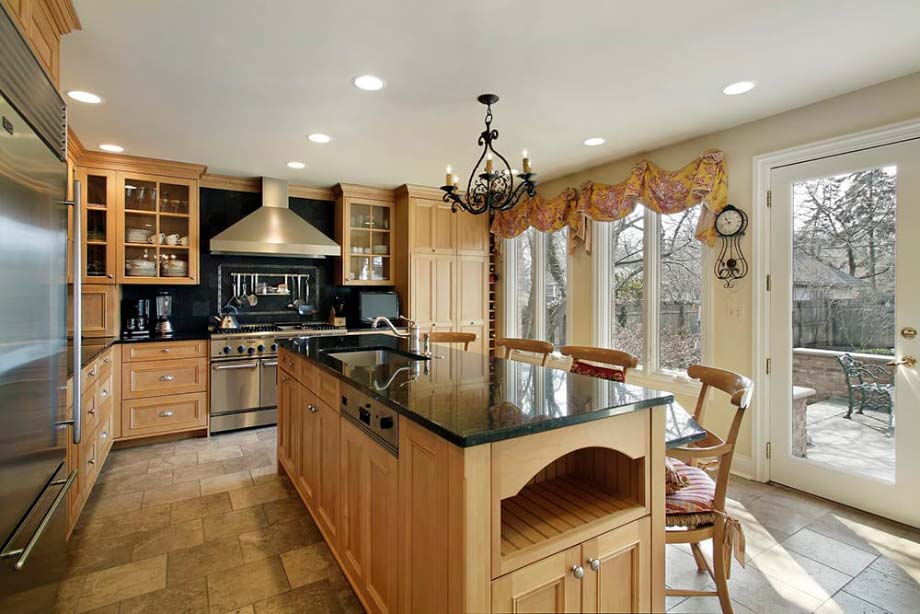 For a more dramatic countertop selection, choose bolder colors such as a polished Eternal Marquina. It has a rich, ebony base with smooth, white marbling to create a look that pairs up well with oak.
Caesarstone quartz countertops provide a traditional granite look with its cool, dark gray base accented with strokes of black and white. Its dark and dominant tones provide a strong character to your kitchen countertop and empower your interiors. When paired with your oak cabinets, you create a rustic look that just doesn't go out of style.
Bring some charm to your home!
We have over 14,000 slabs in stock.
You will definitely find one to go with your oak cabinet!
Go With the Best in the Business
Now that you have enough ideas for your dream quartz countertop and oak cabinet combination, be confident enough to consult a trusted company so that all this research and prepping do not go to waste.
If you are in the Chicagoland area, Granite Selection is one of the best places to begin. Located in Elk Grove Village, IL, we serve a 70 mi radius. Our company manufactures and installs quartz, granite, and other stone countertops for kitchens and bathrooms for your home or office.
Give us a call at (888) 906 3317. Our team of experts will be more than happy to assist you with the details you need to complete your happy home.
About author