How to Disinfect Quartz Countertops During COVID-19

by Paul Batashev
Updated: May 25, 2021
These are trying times for everyone. What we want for all our family members is for them to always stay safe and healthy and be free from any disease or harm. But in situations where viruses are causing a global pandemic, staying healthy and virus-free becomes harder to achieve.
That is why we as heads of the household must do everything we can to maintain a clean home to avoid infections – and that includes disinfecting kitchen countertops.
The kitchen is subject to the most traffic outside of the living room. It's also where we prepare food, eat, and socialize with other family members.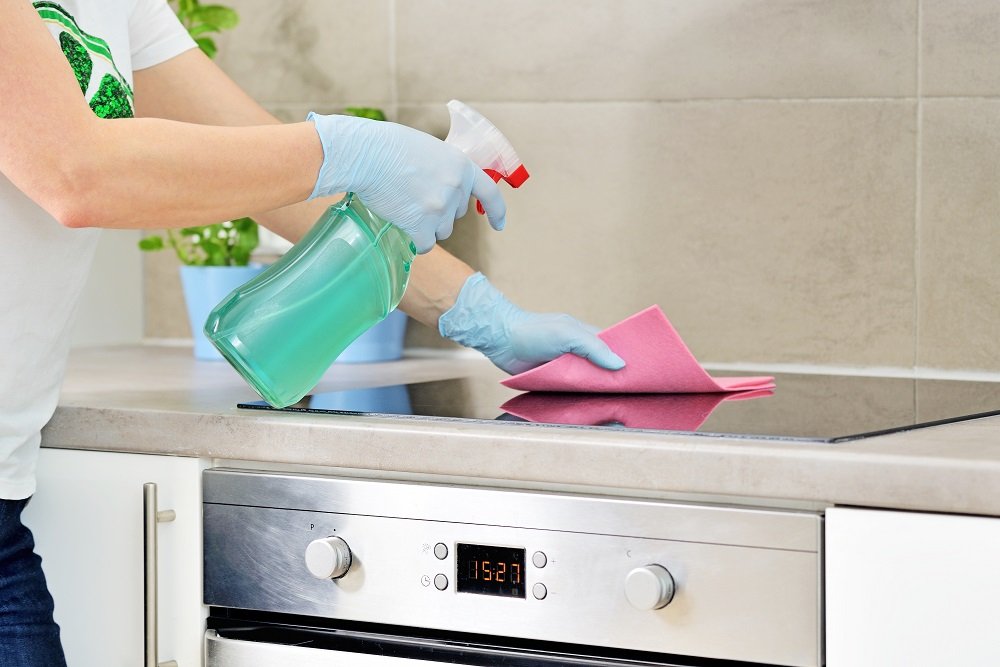 For us to keep our family members safe, we must regularly disinfect countertops to ensure that they're free from any bacteria or virus.
If you're a homeowner that has fallen in love with quartz, you might be wondering how to sanitize quartz countertops. In light of this COVID-19 pandemic situation, we've created a guide that will show you the best way to clean quartz countertops.
What are the Qualities of Quartz Countertops?
Before we dive into the actual guide, let's take a look at the qualities of quartz countertops. This will be helpful for us to understand what methods to use and what kitchen counter disinfectant to use while disinfecting the kitchen.
First, quartz is non-porous. Quartz countertops are more compact than granite because they are engineered. They do not have small pores where liquids might seep. While this makes the surface stain-free, it also makes the surface more sanitary. With the lack of holes or pores, microorganisms such as viruses and bacteria will stay on the surface.
Second, quartz is easy to clean and maintain. This is due to its lack of pores. Any dirt, spills, stains, or microorganisms will only stay at the surface, which make them easier to wipe and clean.
Information on the SARS-CoV-2 Virus (COVID-19)
This global pandemic situation in which we currently sit has been caused by a new coronavirus strain called SARS-CoV-2. Because of its status as a novel coronavirus, the authorities are scrambling to contain it due to the lack of knowledge about the virus, its mode of action, the lack of any cure or vaccine.
As researchers continue to study the virus, they have shed light on many of its properties. The researchers have revealed that the virus could live on various surfaces for prolonged periods of time, such as on copper (4 hours), cardboard (24 hours), and even plastic and stainless steel (2 to 3 days).
Not much data has been provided regarding its lifespan on kitchen surfaces like wood, marble, or quartz. Nevertheless, we should assume that the virus can live on those surfaces for more than a day and should act accordingly.
How to Disinfect Quartz Countertops
To prevent the spread of COVID-19, you must understand how to disinfect quartz countertops properly. This will ensure that you eliminate the threat of COVID-19 from your home while also protecting your countertop surface.
Prepare the following materials before disinfecting quartz countertops for full protection:
Waterproof gloves – for protection against chemicals and the virus. Nitrile gloves provide the best protection. Surgical gloves or dishwashing gloves can also be used.
Soap or detergent and disinfectants
Disposable gowns – may come in contact with the virus so this must be washed immediately.
Mask and goggles – for protection from the virus and the chemicals.
Other materials – warm water, towels, and trash bags.
Step-By-Step Guide to Sanitize Quartz Countertops
Remove all visible debris from the countertop surface. Wash the surface with warm water and detergent to remove all spills and contaminants sticking to the surface. Use a brush or sponge for a deeper clean. This can also be helpful in reducing the number of the virus on the quartz surface.
Once you're done brushing, rinse it off with clean water. Wipe off the surface with a clean towel.
Apply the disinfectant on the quartz surface. Follow the directions of the disinfectant as indicated on the label. To make sure it's effective in killing the virus, allow a contact time of more than 10 minutes before wiping off the surface with a clean towel.
After 10 minutes, wipe off the surface using a clean towel.
Rinse the surface again with clean water before wiping off again with a clean towel. Allow the surface to air dry sufficiently. This is an important step for your quartz countertop since food is always being handled here. Skipping this step exposes your food to harmful chemicals that could harm you and your family.
Once you're done, remove your gloves and place inside trash bag immediately.
Wash your hands immediately to clean your hands from possible contaminants.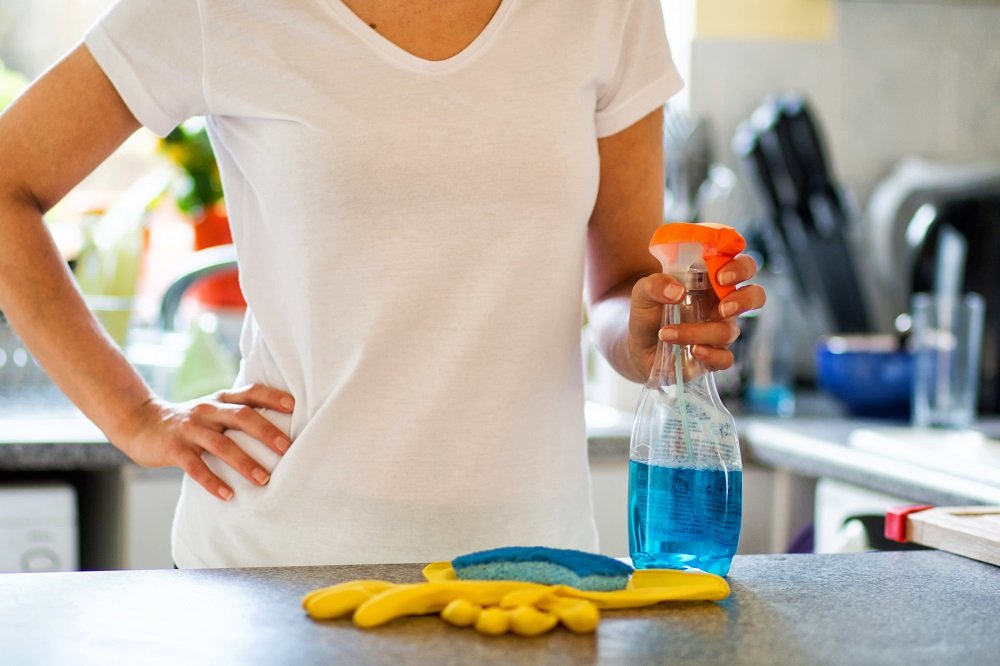 As a gentle reminder: always make sure to protect yourself when cleaning quartz countertops and other surfaces. Make sure you wear your mask, gloves, goggles, and gown before touching anything that you think is contaminated.
Additionally, handle contaminated materials such as gloves, towels, and gowns as little as possible after use. Take necessary precautions to lessen handling these materials prior to disposal or washing.
STAY SAFE DURING COVID-19!
Countertop disinfection is crucial to protect yourself from the coronavirus. Learn how to disinfect your granite countertops in our dedicated guide.
How Frequently Should You Disinfect Quartz Countertops?
Because everyone is home as part of the government's response to the virus, you might need to disinfect your quartz surface more than once a day. Cleaning quartz countertops should be done at least twice a day to make sure these surfaces are clean and free from contaminants before anyone comes into contact with them.
What Disinfectant Can You Use on Quartz?
The best kitchen counter disinfectant to use on quartz is rubbing alcohol. The alcohol must have a concentration of 70% and can be made from either ethyl or isopropyl alcohol to make it effective against the virus.
What Should You Not Use on Quartz?
When disinfecting your quartz countertop, make sure not to use any harsh chemical that might corrode the surface. This includes the use of bleach. Although the CDC recommends its use for disinfection, you must avoid its use so as not to damage your kitchen countertop.
Additionally, avoid using alcohol solutions below 70%. They will only give you a false sense of security while being ineffective disinfecting agents.
Read our full guide on coronavirus home cleaning and disinfection to learn how to keep all surfaces in your home germ-free.
If you need help with your countertops or for further questions about this article, don't hesitate to give us a call at (888) 906 3317. We are more than happy to assist you!
About author