12 Most Popular Quartz Colors for Your Dream Bathroom
by Paul Batashev
Updated: October 26, 2021
Loads of Chicago homeowners select quartz countertops for their bathrooms. Monochromatic elegance, a touch of vintage and bespoke furniture offset by globular mirrors that are inspired by the 80s Memphis Design aesthetic dominate current interior design trends. Although we've previously written about the best granite colors for bathrooms, quartz comes with unique qualities and is lower maintenance.
Quartz countertops are manufactured by grinding up natural, mineral quartz and pressing it into slabs held together with resin. Developed by the Italian company, Breton S.p.a in the 1960s, it didn't take long for this engineered stone's popularity to spread to the rest of the world. And it's still widely used today. Here's a list of trending quartz bathroom countertops.
Is quartz good for bathroom countertops?
The moisture-resistant and durable nature of quartz makes it one of the best options for bathrooms. It's good for more than just countertops — you can fabricate an entire vanity from it. Some homeowners have their sinks built from quartz, too. Since it's an engineered product, quartz is available in a substantial variety of colors and styles that can be replicated as needed.
At Granite Selection, we stock premium brands like MSI Q Quartz, Cambria, and Caesarstone. If you want a standout quartz bathroom, you'll find an inimitable and eye-catching aesthetic with quartz. And best of all, you don't have to worry about sealing or this stone or wear-tear that's associated with other natural stones like granite and marble.
What are the best options for quartz bathroom countertops?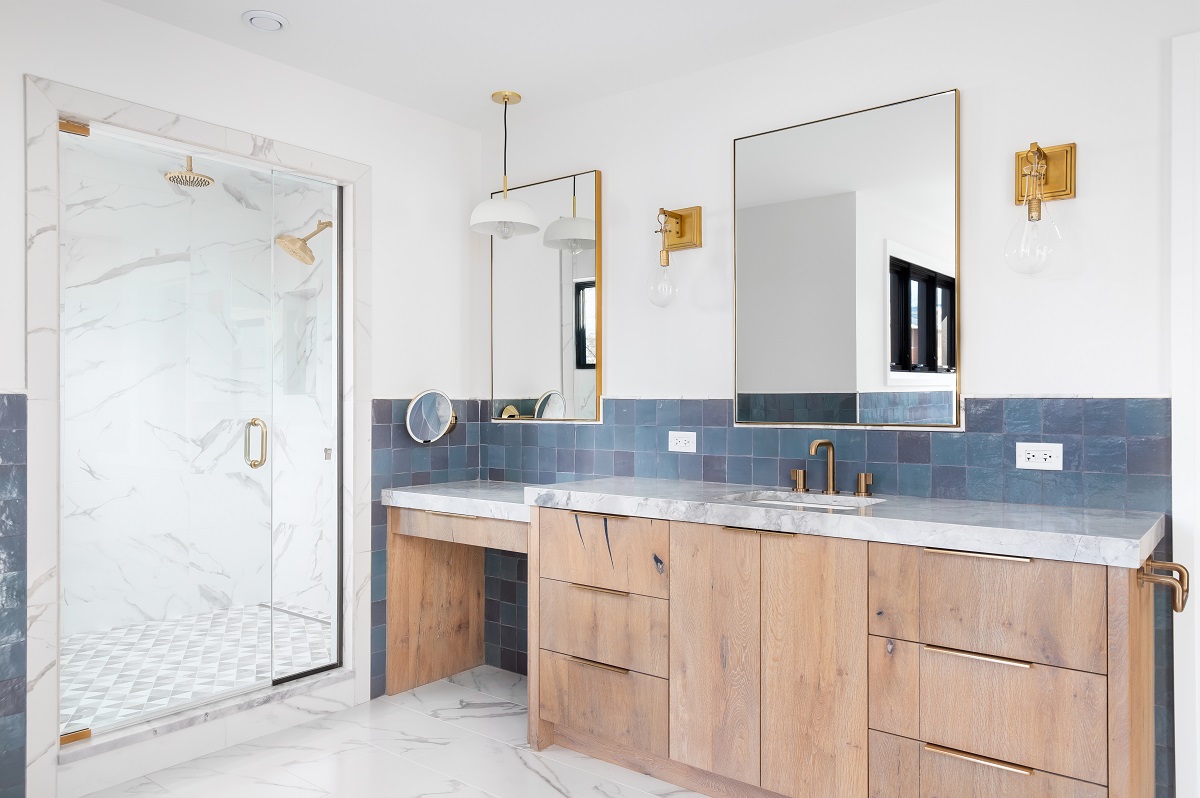 Best White Quartz Colors for the Bathroom
White is versatile and goes with everything. It keeps bathrooms bright without looking bland. White quartz bathroom countertops are a great option for smaller bathrooms because they reflect light, providing the illusion of depth and space.
The large chunks of quartz present in this stone reflect light beautifully, adding allure to any bathroom. Sparkling White quartz provides a touch of understated elegance, and with patterning similar to Terrazzo flooring, it's bound to make a subtle statement. This stone is excellent for a quartz bathroom backsplash or vanity with a touch of extra pizzazz.
An Arctic White quartz bathroom exudes elegance and sophistication. With no patterns or veins, this MSI Q Quartz provides endless design opportunities. Its snowy, plain background is perfect for floors, accent walls, shower surrounds, and vanities. Arctic White's timeless surface blends well with most interior design choices, making it a good match for residential and commercial applications.
Featuring a warm white background, this marble-mimicking quartz offers the look of natural stone without high maintenance. Its gray veins, highlighted with lovely gold accents, provide modern elegance and understated luxury. Calacatta Arno can make a beautiful quartz bathroom shower, backsplash, or vanity. Paired with gold or brass fittings and furnishes will enhance its luxurious look.
A Cashmere Carrara white quartz bathroom vanity top looks like marble. This subtle gray-veined quartz offers a clean aesthetic that's timeless and on-trend. Its gray veins on a white ivory and alabaster background make it ideal for a range of bathroom applications with a classic or contemporary look. When compared to a Cambria Summerhill quartz bathroom, Cashmere Carra offers greater subtlety and simplicity.
Best Beige Quartz Colors for Bathrooms
From runways to interior design publications, the full spectrum of browns and earthy tones like sandy beige, dark chocolate, sienna, russet, and ocher are trending. Beige quartz bathroom countertops can offer old-world charm, rustic appeal, or a contemporary aesthetic, depending on your preference.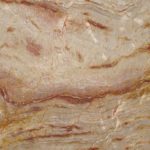 Bamboo quartz has a light beige bedrock accentuated by a pebbling pattern. Its coffee brown, chocolate, white, taupe, and gray mineral deposits give this stone a textured look, much like Sparkling White quartz, except within a brown tonal range. This warm stone is great for quartz bathroom vanity tops and harmonizes well with wooden cabinets and warm wall colors.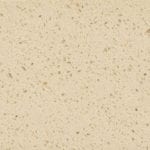 Tan and light-brown tones lie against this stone's beige bedrock, creating beautiful beige quartz with white highlights and tonal-brown lowlights. Almond Roca countertops have an evenly patterned surface that combines mid-toned mineral deposits on a warm beige base with dark and light cabinets. This welcoming stone adds a soothing tone that lends warmth and charm to bathrooms.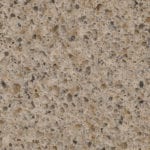 Toasted Almond quartz has warm, cream, beige, and speckles of gray, creating a dense, consistent pattern with a uniform look complementing design styles from transitional to modern. This low-maintenance, durable quartz pairs well with dark or light wood cabinets in traditional, transitional, and contemporary bathrooms, providing a textured twist on plain beige countertops.
Best Black Quartz Colors for Bathrooms
Black has the power to transform a bland bathroom into a statement room. Textured tiles, dramatic quartz countertops, and high luster fittings bode well for moodier bathrooms. Monochromatic color schemes with textured surfaces or playing with patterns ensures bathrooms remain spacious and organized.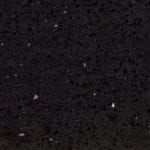 Punctuated with light, shiny mirror flecks that make its surface look like a galaxy filled with tiny stars, this glamorous quartz makes an arresting quartz bathroom backsplash or countertop. When the dots catch the light, they create an elegant, luxurious shimmer enhancing the simplicity of the stone's dense black undertones. Due to its uniform pattern, Sparkling Black goes with light and dark interiors.
Sleek and sophisticated, Midnight Majesty's uniform pattern is unpretentious and highly serviceable. Its low variation mid-tone, gray background with small and subtle flecks, adds depth to an otherwise dense patterning that's neutral application is apt for all types of bathroom design styles, whether used as a vanity, backsplash, or countertop. Low maintenance and stain-resistant, Midnight Majesty has everything going for it.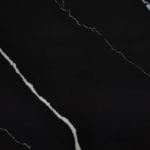 Strong white veining gives this dramatic quartz a marble look. Marquina Midnight pairs nicely with white shaker cabinetry or even ultra-modern, monochromatic bathrooms. Its majestic white veins contrast against its dark background, providing impressive glamour in busy or minimal bathrooms. Black quartz like this can be used to accentuate luxe brass or copper fittings.
Other Popular Quartz Colors for Bathrooms
Quartz countertops like Portico Cream and Gray Lagoon provide a combination of warm and cool hues that are less stark than white and black and not as brown-toned as our beige suggestions. These are great options if you're looking for a versatile bathroom countertop that can accommodate changing decor trends.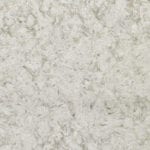 This neutral quartz mix of cream, greige, and gray can enhance a varied palette of color schemes and design styles from traditional to modern. Portico Cream has a white-gray background with gray-brown markings that mimics lighter granite stone. This understated quartz stone works with dark and light wooden cabinets, bronze and stainless steel fittings.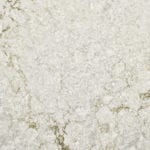 The perfect blend of cool grays and warm golds, Gray Lagoon, has a sleek, sophisticated look with a velvety texture. Its mix of gray and gold complements warm neutral wood tones and cool stainless appliances. Its widely dispersed brown veining and swirls add depth to its light background. This quartz is perfect for countertops, floors, backsplashes, and accent walls.
How much does a quartz bathroom cost?
The cost of quartz depends on the type, application, size, and edging (if a countertop). Typically, the price ranges between $50 to $150 per foot. The range is usually due to the ratio and quality of quartz to resin. Quartz countertop grades progress from closeout/clearance, standard, premium, and designer.
The more quartz a grade possesses, the higher the price and vice versa; bathroom usually remodels range from $500 to $2,000. At Granite Selection, we have a wide selection of high-quality quartz currently on discount.
Add Quartz to Your Bathroom Design with Granite Selection
Quartz is a versatile, non-porous stone that works well in bathrooms; over and above aesthetics, its antimicrobial qualities mean it doesn't encourage bacterial growth. If you're looking to install quartz in your bathroom, our experts can help. We've installed hundreds of quartz bathroom countertops for happy homeowners in Chicago. Call us at (888) 906 3317 or explore our quartz countertop collections.
About author