10 Unique Backsplashes and the Countertops to Pair Them with
by Paul Batashev
Updated: October 28, 2021
Everyone wants to have a remarkable and memorable house and since the kitchen is the heart of the home, people tend to gravitate to unique kitchen designs. But how do you travel down that fine line of unique and "over the top"? We've outlined ten unique backsplashes that will add visual interest to your kitchen and the stone countertops to pair them with to create a cohesive design without going overboard.
1. Hammered Copper Tiles
We absolutely love this blend of natural material fabricated in a contemporary way. These tiles create visual interest but remain warm and inviting.
Our Countertop Suggestion:
Keep it natural with white, lightly veined stone like marble or granite. Try Carrara White Marble or White Tango granite to play into the natural feeling of the copper.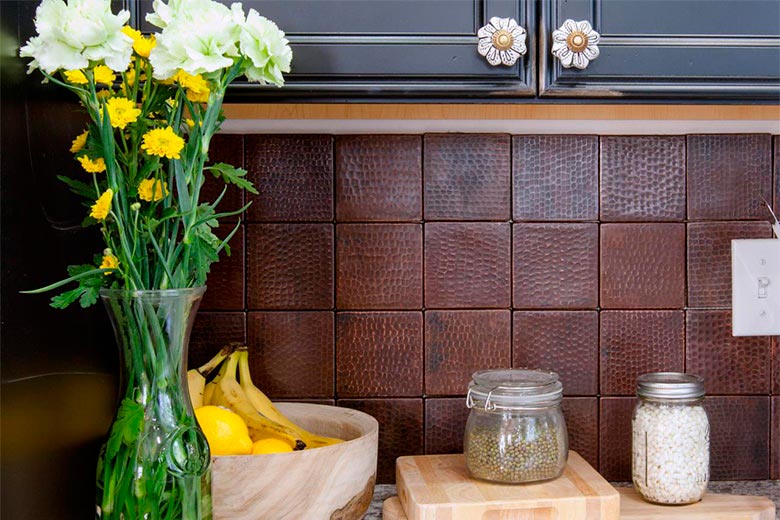 2. Painted Planks
This backsplash is not for the faint of heart but if you like the look and feel of wood, this style can make a big impact on your kitchen's style without your wallet taking a hit.
Our Countertop Suggestion:
We suggest you keep it simple and avoid adding much more texture by picking a solid (or almost solid) piece of quartz. For this paint color, we would offer Caesarstone Quartz Dreamy Marfil or Q Quartz Pebble Rock.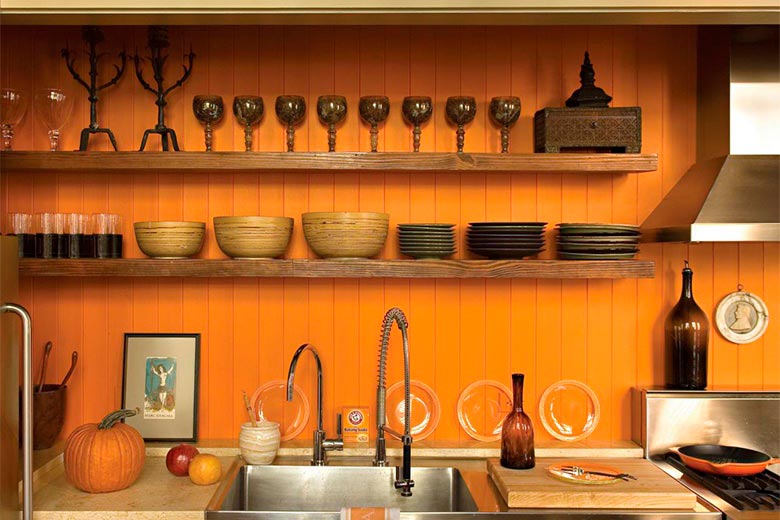 3. Abnormal Red Tiling
If you want to go bold, here's a good starting point for you. This bright backsplash is modern and fun and sure to add some excitement to your space.
Our Countertop Suggestion:
With a backsplash this bright, you really shouldn't add to it with additional colors or textures. We suggest a light or medium gray quartz like Q Quartz Ash Gray or MSI Quartz Stellar Gray for a clean contrast.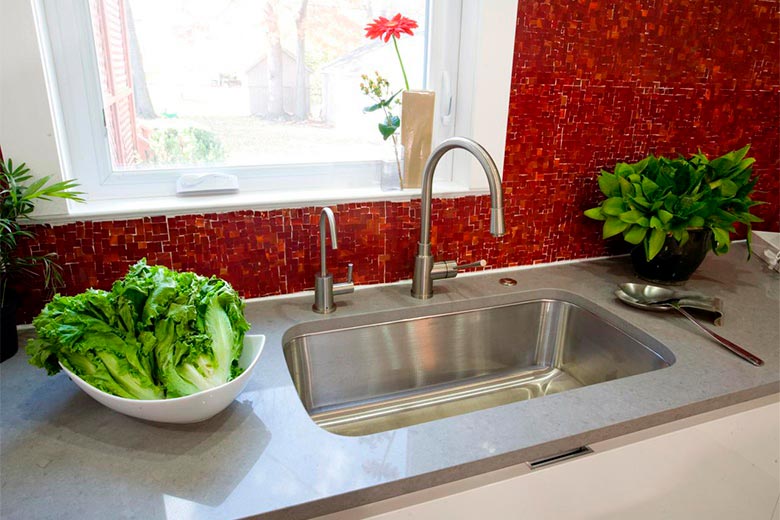 4. Granite Chevron Tiles
This is a new and innovative way of using a natural stone countertops as a backsplash. The stone adds a classic, luxurious feel while the tile's chevron placement gives the kitchen a bright, modern feeling. This kitchen, completed my Maya Construction in Chicago, is perfect for new homeowners looking to pair the preferred kitchen material with the newest design trends.
Our Countertop Suggestion:
Because this design has two tones of texture (the veins in the granite and the chevron pattern) we suggest you find a slab of solid quartz that matches the main color of your granite. For this project, they used Caesarstone Quartz Organic White.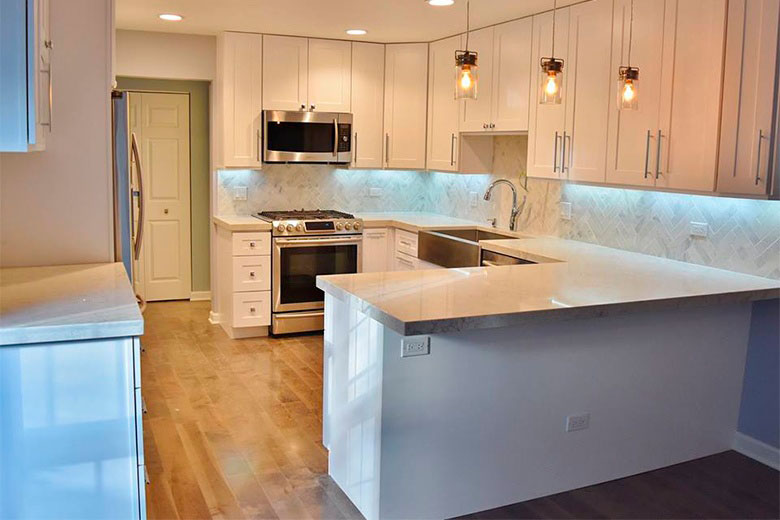 5. Metallic Tiles
It doesn't get much more unique than these multicolored metallic tiles. If you're looking for a statement piece in your kitchen, this is a great option.
Our Countertop Suggestion:
We love the idea of pairing these funky tiles with black stone countertops. We suggest Caesarstone Quartz Jet Black, Caesarstone Quartz Vanilla Noir or Silestone's Dinux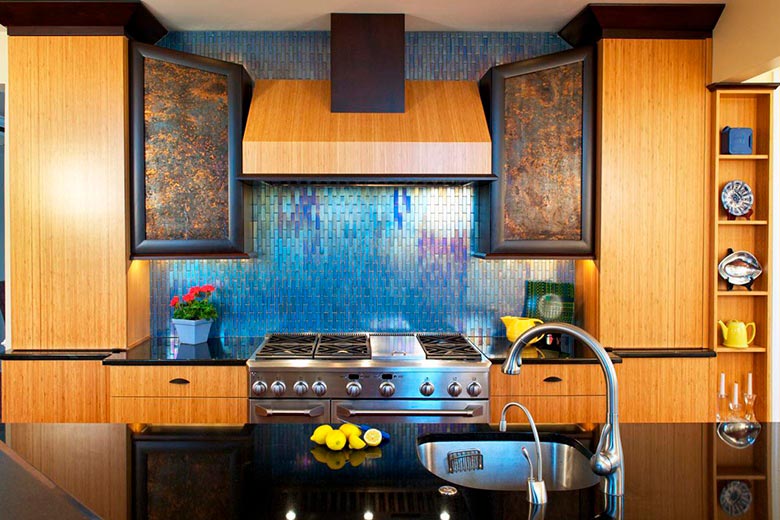 6. Beach Pebbles
If you love everything about the beach, you're sure to love this unique backsplash. The texture and neutral colors mean you can decorate with any accents you desire.
Our Countertop Suggestion:
Take the color from one of the pebbles and match it in your countertop. This creates a cohesive look and doesn't take away from the incredible texture added by the tiny stones. Try Silestone's Nymbus or Caesarstone Quartz Linen.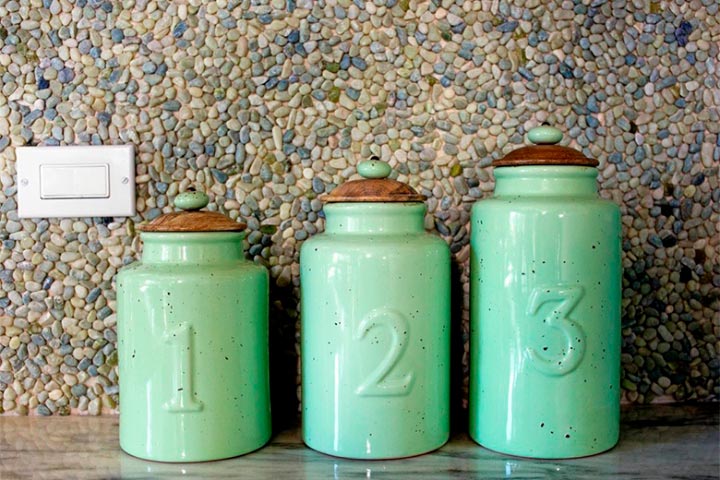 7. Black and White Family Photos
Ok, we think this is really cool. Try blowing up a vintage family photo, making it waterproof and using it as your backsplash. This is perfect for families who have a history of eating, cooking and laughing together for generations.
Our Countertop Suggestion:
Make the photograph the focal point and pair it with solid dark gray or black countertops. We suggest Caesarstone Quartz Raven or Q Quartz Sparkling Black.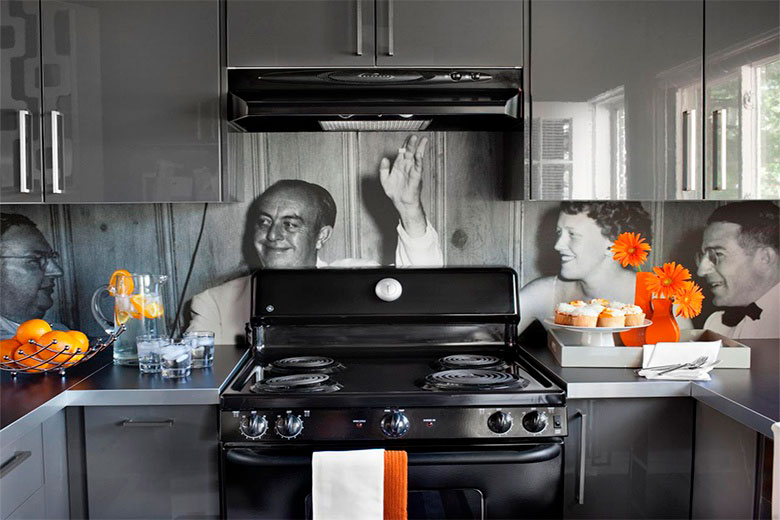 8. Stainless Steel
Using stainless steel as a backsplash automatically creates a modern look in your kitchen. Try using smaller, uniquely shaped tiles to create even more visual interest.
Our Countertop Suggestion:
Add some warmth back into the space by pairing the stainless steel with a warm, natural countertop. Try granite in Amarelo Ornamental or Caramel Travertine.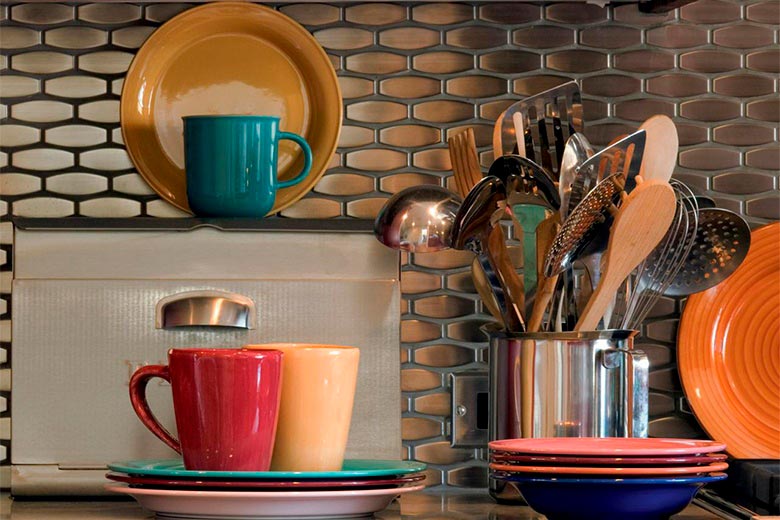 9. Marble Slab
This is, hands down, the most luxurious backsplash in this list. The trick with this design is to source the backsplash stone from the same slab as the countertop creating seamless veining.
Our Countertop Suggestion:
For this design to work, you want to look for a marble slab with strong veining. Try Calacatta Vagli or Calacatta Gold.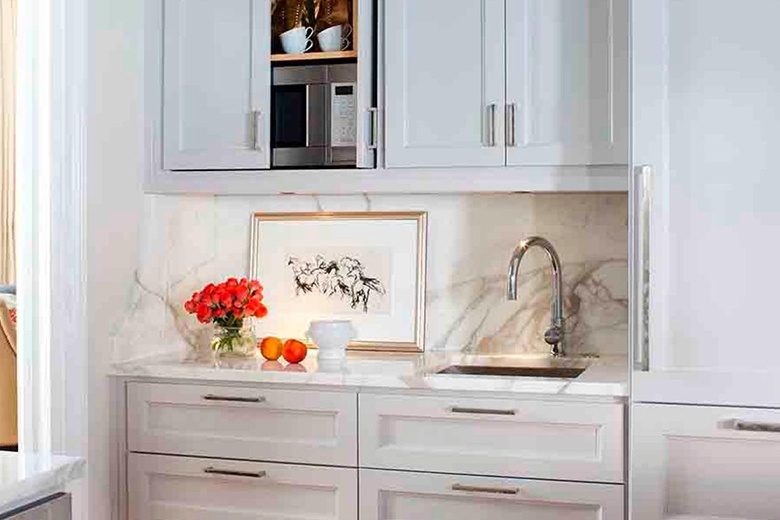 You can have a marble backsplash, but what about granite? Just look at how amazing it looks!
10. Geometric Shapes
Not for the faint of heart, this backsplash calls to the artist in all of us. Use contrasting materials to create even more depth in this design.
Our Countertop Suggestion:
Keep it warm and keep it simple. Try Q Quartz Canvas or Q Quartz Sahara Beige.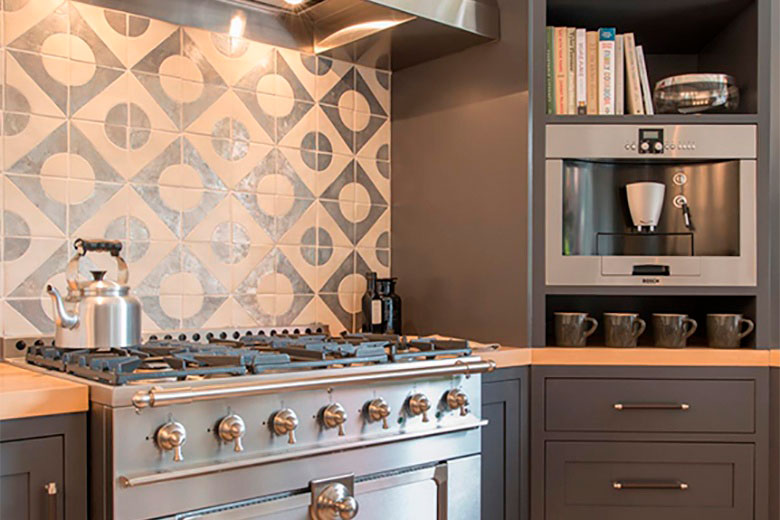 About author