Top 5 Mistakes When Caring for Granite

by Paul Batashev
Updated: June 01, 2020
Granite is a hard and durable material formed from millions of years of molten rock beneath the earth's surface. The extreme heat, pressure, and the magic of time has formed some of the most beautiful specimens to grace our kitchen sinks and countertops.
Although it is known for strength and durability, granite is not exempt from natural wear and tear from chemicals, heat, and other factors. Physical factors such as scratching, rubbing, grinding, and banging on the granite countertops can have adverse consequences as well. It is important to understand that granite tops need care as well.
A lot of us have worked long and hard to buy our dream houses and get the best kitchens with the most beautiful granite tops. It is an investment that needs taking care of. Due to its nature, there are right and wrong ways of taking care of granite. Granite needs maintenance too.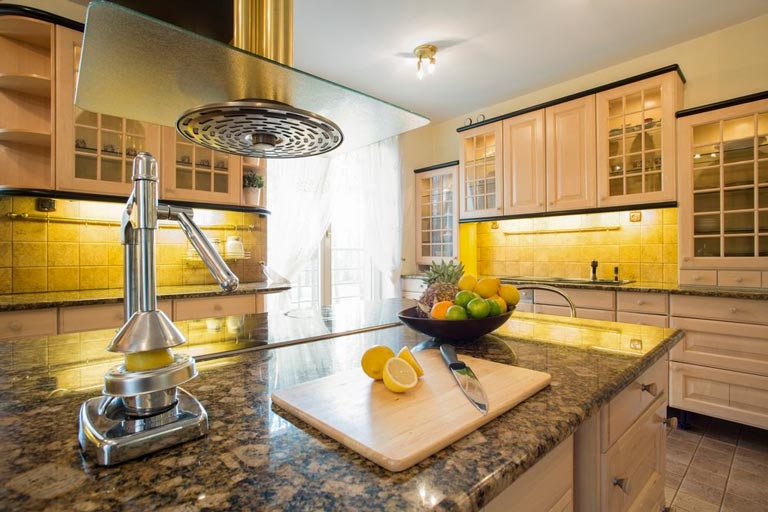 Here are the top 5 mistakes most novice owners make when caring for granite:
1. Harmful Cleaning Agents.
With its smooth polished surface, a lot of people would easily think that regular cleaners are suitable for granite care and maintenance. To the average person's surprise, glass cleaners can actually permanently damage natural stone. The wear off sealants making them ineffective and the residue left behind can seep into the stone cause tons of problems. The use of soaps and detergents may cause the same problems as they are not completely taken off by wiping which is the most common cleaning method.
A lot of homeowners look to the internet, especially youtube for tutorials on their home DIY tasks. Vinegar has more than often come up as an effective universal cleaning agent. That's a big no-no for granite care as acids can cause etches on the surface and potential permanent markings. The same goes for lemon juice, bleach, dishwashing cleaners, and oven cleaners.
Pro Tip: The best route is to look for cleaning agents that are specifically formulated for granite. Granite can last a lifetime with the proper care!
2. Not Cleaning Frequently Enough
For a busy kitchen, granite countertops get exposed to an assortment of chemicals from food items being prepared on it. Despite its sturdy look, food and beverage residue can actually seep into granite pores and cause stains and damage. Constant and prolonged exposure will actually speed up the wearing off of the sealant causing it to fail to do its job.
Pro Tip: Wipe and rinse often! It doesn't take up too much of your time. Only a couple of minutes would be sufficient actually. In exchange, you get to protect your prized investment. It's absolutely free too!
3. Not Minding the Heat
A common mistake for novice granite countertop owners. Time and time again granite has been advertised for strength and durability. But it needs help for it to last. Placing hot pans directly on the surface frequently and regularly can actually cause damage. Even quartz, one of the most heat resistant stone materials, can show signs of damage when exposed to heat exceeding 300 degrees Fahrenheit.
Pro Tip: Rubber, cloth or wooden coasters and table mats are inexpensive but very effective tools to buffer the heat from your granite countertops.
4. Improper Storage
Placing liquid bottles, food ingredient containers, and bathroom and personal hygiene containers on top of countertops seem harmless. Novice owners often neglect this because of the usual lightweight of the bottles. They are often found just sitting on top of your granite countertops. As long as nothing spills, the countertops are seldom wiped or rinsed. This is what causes tiny droplets of food, oil, and other chemicals to seep through to the stone and cause damage or stains.
Kitchen utensils, usually made of hard metals can cause undue damage and scratches from being placed carelessly on granite countertops too. The light scratches and dings that might not be seen right away can accumulate over time. Not to mention speeding up wear on the sealant.
Pro Tip: Use kitchen shelving. Modern shelving is inexpensive, can add to the overall aesthetics of your kitchen, and keeps your countertops very well-kempt and tidy. You'll also know exactly where to go when looking for stuff.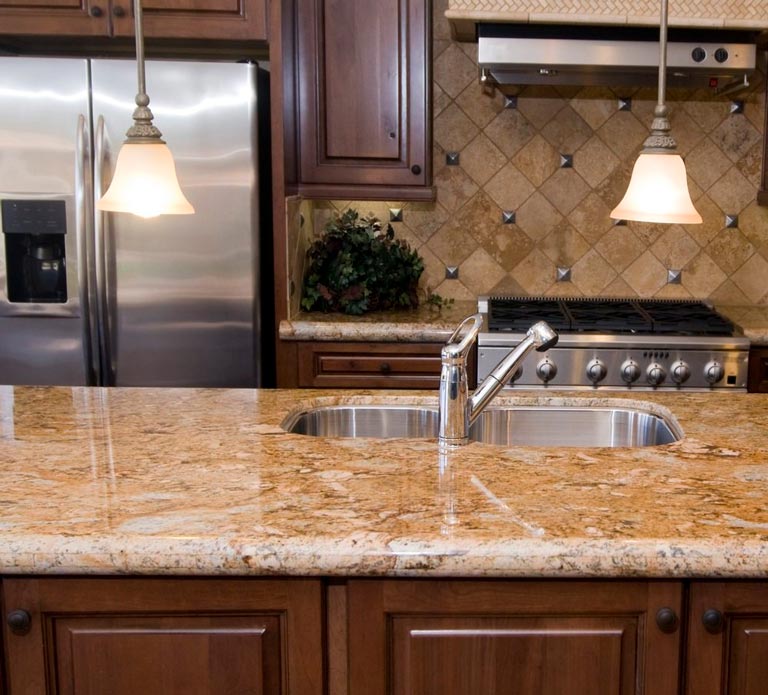 5. Not Sealing Granite Counter Tops
Sealants wear off over time. Despite strong claims from commercial sealant manufacturers that their products can last a lifetime, it may not have taken into account the daily use and abuse that your granite countertops go through on a daily basis. Just like any other protective coating, the constant rubbing, scratching, and grinding will take its toll over time. Harmless looking citrus fruits, juices, and other household chemicals will weaken the sealant over time too.
Pro Tip: Apply sealant. Just do it. You don't have to do it very often. For most home kitchens only once every 1 to 2 years. There are quality sealants for under 20 bucks out there that will do a decent job. Protect your investment.
BONUS TIP:
I don't know about you but I'm a big fan of movies and TV series. You're probably wondering where I'm headed with this one but just hang in there and I'll bring it home. A lot of the most important and dramatic conversations in movies and TV series happen in the kitchen. For dramatic effect or for whatever reason you often see one person eating a snack while sitting on the countertops. Don't! It may look cool and chill but it's not good for your countertops granite or otherwise. Just please don't.
At the end of the day, despite being strong, sturdy, and durable, granite countertops, just like you and me still need a little TLC for it to stay pretty and last. A little will go a long way for your prized kitchen gems. Follow these simple tips and heed to these warnings for the best experience.
Granite Selection
Granite selection is a manufacturer and installer of natural stone countertops for kitchens and bathrooms in the Chicagoland area. Located in Elk Grove Village, IL,  we service the surrounding 70 mi area.
We have the best selection of Granite for countertops and other purposes. With a wide array of patterns and designs, you are sure to find the perfect fit for your kitchen. We also offer other stone materials for household and commercial buildings.
Give us a call at (888) 906 3317 and we will be happy to assist you with your granite needs.
About author