Best Colors for Quartz Countertops with White Cabinets

by Paul Batashev
Updated: May 20, 2021
White has always been a symbol of purity and cleanliness. In fact, this is one of the reasons why it has been such a popular color among kitchens. It is a front-liner when it comes to flexibility because it is hardly a challenge to find colors that do not go well with white. White cabinets, especially, exude such timelessness and elegance and when paired with perfectly colored quartz countertops, they could give any home the flair that it deserves.
On the other hand, while white cabinets are famous for their versatility, this does not mean that you do not have to put some thought on the color of your countertops when choosing one. In fact, you are probably doing exactly the opposite thing right now. It's perfectly normal. The more options you have, the more difficult it is to decide. This is why we are here to help you to choose the perfect match for your cabinets. Here are the best quartz countertops for white cabinets that won over homeowners in the different Chicagoland localities.
Elk Grove Village, Elgin, Mount Prospect, Des Plaines, and Lincolnshire Go All-White
White on white is a classic combination. It adds a crisp, clean feeling to a kitchen and allows you to complement this with virtually any kind of décor that you want. Whether these are kitchen accessories or colorful backsplashes, you can never go wrong with a white quartz countertop. If you prefer a more monochromatic theme for your kitchen, you can opt for a pure white quartz countertop. Meanwhile, if you want to have a touch of something special on your surfaces, you can always go for white quartz countertops that have speckles or veins in them. This adds a marble surface look on your quartz countertops with white cabinets.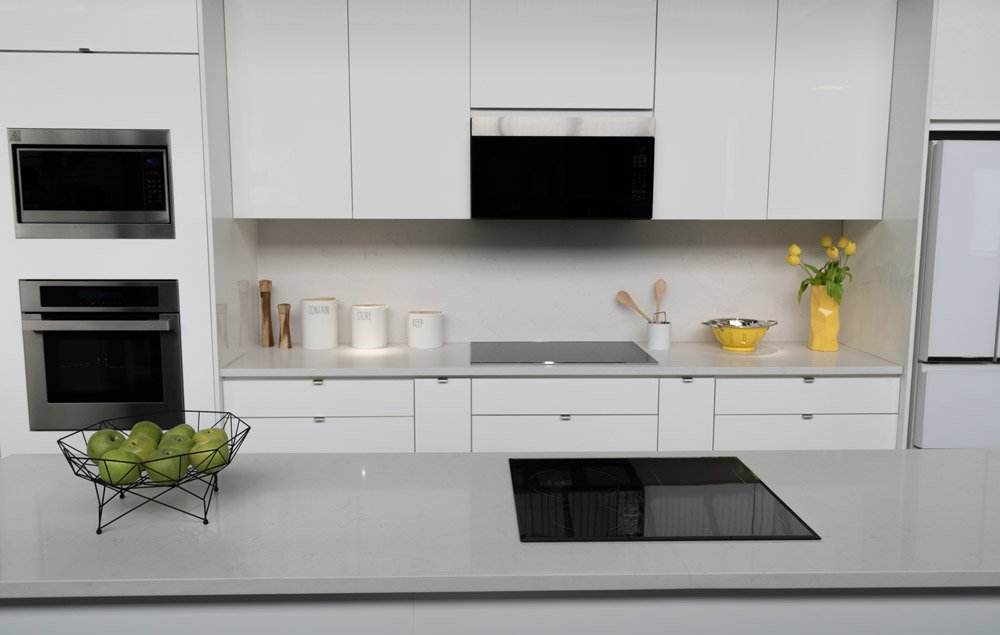 Bluer than Blue for Schaumberg and McHenry
There is always something calming with the color blue and this peaceful energy that it exudes can be extended to kitchens. Combined with white cabinets, blue quartz countertops will bring the vibe of the cool sky to your kitchen. This is also perfect for when you want to have an ocean-themed cooking space because blue, white, and a touch of green from indoor plants can make you feel like you are in the Caribbean. For a more classical, sleeker touch, you can always choose a dark blue hue for your quartz countertops with white cabinets. And if you want to go light, you can do so by choosing a gentler hue. Add a touch of pattern for more visual appeal.
Wheaton and Northbrook Votes for Timeless Black
Ah… the good, ol' black and white. Black has always been the go-to color when looking for something that would contrast white. Black quartz countertops with white cabinets provide another timeless, chic look for any household kitchen out there. What makes this even better is that it's a nice complementary color for your kitchen appliances, especially if they are those metal-colored types. Another appeal of the black quartz countertop is that it does not easily get dirty and it is very easy to clean. Most of all, they can either add a conventional or modern vibe to your kitchen. It all depends on what your kitchen's theme is!
Brown Has Won Buffalo Grove Over
When we think about "neutral" colors, earthy tones are definitely one of those that cross our minds. Brown has been the quartz countertop of choice for the white kitchen cabinets of Buffalo Grove. And maybe, it will captivate you too! This color brings such a touch of natural vibe to your kitchen so if you are someone who is into eco-themed spaces, this would be ideal for you. Brown quartz countertops with white cabinets also emits a warm glow to a humble abode's kitchen. This looks especially nice if you have a lot of wooden cookware and some in-door plants. It also adds pleasing aesthetics if your floors are made of wood.
Lake Zurich Embraces Beige
Another superstar of the neutral world of colors is beige, which is why Lake Zurich households cannot get enough of this color for their quartz countertops. Indeed, beige adds a regal touch to any kitchen. Like the other neutral colors mentioned above, it is perfect to pair with almost any décor of your choice. But most importantly, it's can be beautifully paired with white kitchen cabinets. Beige also exudes elegance and, along with classic decorations, it can make you feel like royalty when cooking.
Gray is the Go-To of Bartlett
Gray quartz countertops with white cabinets give both an industrial and sleek atmosphere to kitchens. Especially if it's in a charcoal gray shade, your kitchen will have an ultra-modern feel to it. Like black quartz countertops, it is a color that is also convenient to clean and maintain. No wonder it won Bartlett over. Gray quartz countertops can add a cool touch to any kitchen and you can also customize it with marbling or specks. If you're also into bold colors when picking kitchen décor, they can easily go well with your gray quartz countertops.

See our kitchen design for white cabinets if you are still in doubt.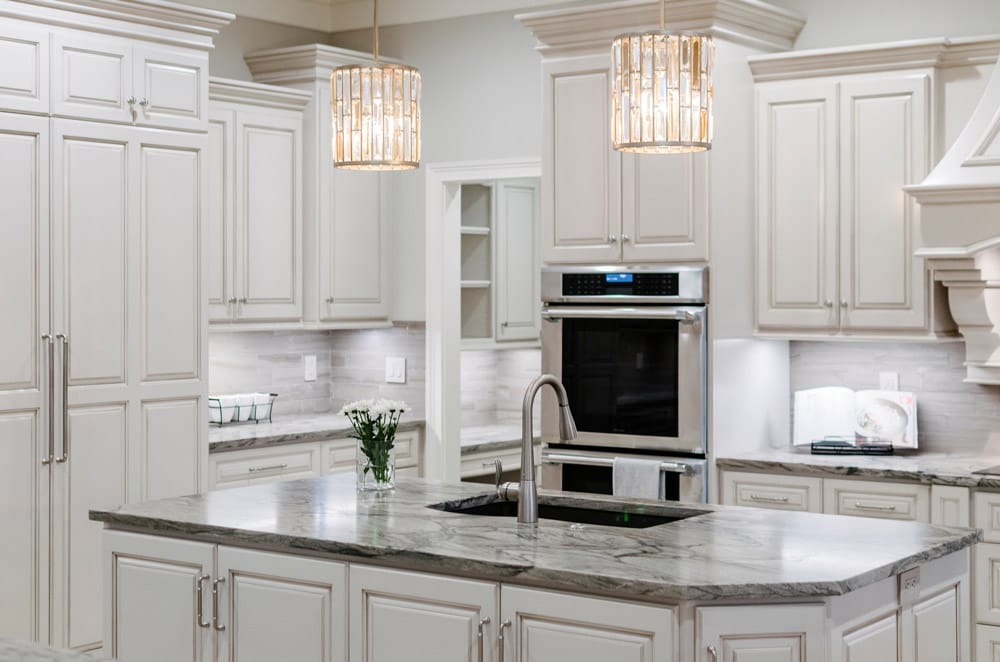 As what can be seen, Chicagoland area households are very fond of neutral colors when it comes to quartz countertops with white cabinets. And you might be as well! But we can't blame them because these colors definitely add that pop of modern classiness to one of our favorite areas of the home.
Whatever color you choose among these suggestions, you are sure to have a comfortable, luxurious-looking kitchen. No matter where in Chicagoland area you are, we, at Granite Selection, can definitely help you choose the best quartz countertop that will match your kitchen color. We manufacture and install natural stone countertops for kitchens and bathrooms in the area serving a 70-mile radius. We're located in Elk Grove Village, IL so we are just within your reach! Give us a call at (888) 906 3317 and we'll be happy to assist you.
About author