8 STYLISH USES FOR GRANITE REMNANTS
April 25, 2016
Granite Remnants are a great way to add a little class to your home without emptying out your pocketbook. Here are 8 stylish and easy to execute uses for granite remnants that you can add to your home this weekend.
Decorative Tray

Perfect for adding a touch of class to your living room. This decorative tray is very easy to make – simply add on two handles and top with a succulent and interesting coffee table book for a fun and mature look.
Mosaic Pathway
Adding a colorful statement pathway around your yard creates a "secret garden" whimsical feeling to your space. Collect remnants in different sizes and colors for a more dynamic pattern.
Bathroom Shelving
It is extremely easy for bathroom vanities to appear cluttered and dirty. Use a granite remnant to create a visually interesting shelf and remove the excessive products to create a clean, stylish look.
Bathroom Tray
If you must keep products on the bathroom vanity, using a granite remnant as a decorative tray keep your products contained and still looking classy.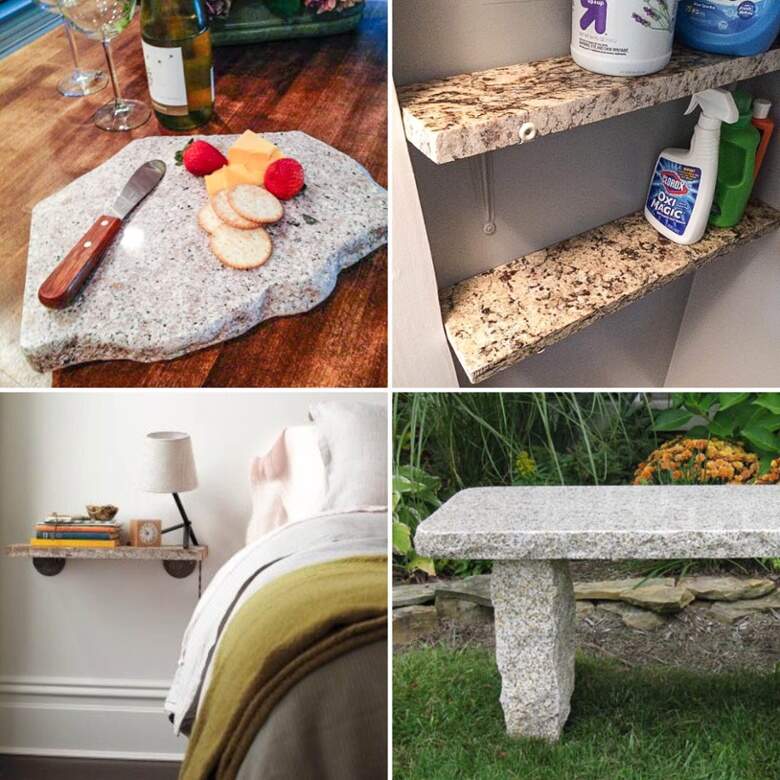 Cutting Board and Cheese Board
Granite remnants make great, durable cutting boards and, because granite is known for being classic and beautiful, you can also use it as a serving board for cheese and crackers.
Laundry Shelving
The laundry room doesn't have to be dark and dingy. Add some style to your space and organize your cleaning supplies by adding granite remnant shelving.
Bedroom Side Table
Truly a statement piece, a granite remnant side table is guaranteed to be marveled at and invoke envy in your family and friends on the home tour.
Outdoor Benches
Perfect for gardens and surrounding fire pits, Granite benches create a durable and stunning place to sit and enjoy the great outdoors.