2021-2022 Cabinet Trends and the Countertops to Pair Them With

by Paul Batashev
Updated: November 29, 2021
Time to refresh your space? With each new year comes a new wave of kitchen cabinet trends – and the 2021-2022 season is no different. At Granite Selection, we love to keep up with the latest and greatest of cabinet color trends so we are sure to have the countertop to match. To get you thinking about your kitchen renovation, we gathered 11 of our favorite kitchen cabinet trends and added in the ideal countertop choice to take the stress out of remodeling.
Personalized Cabinets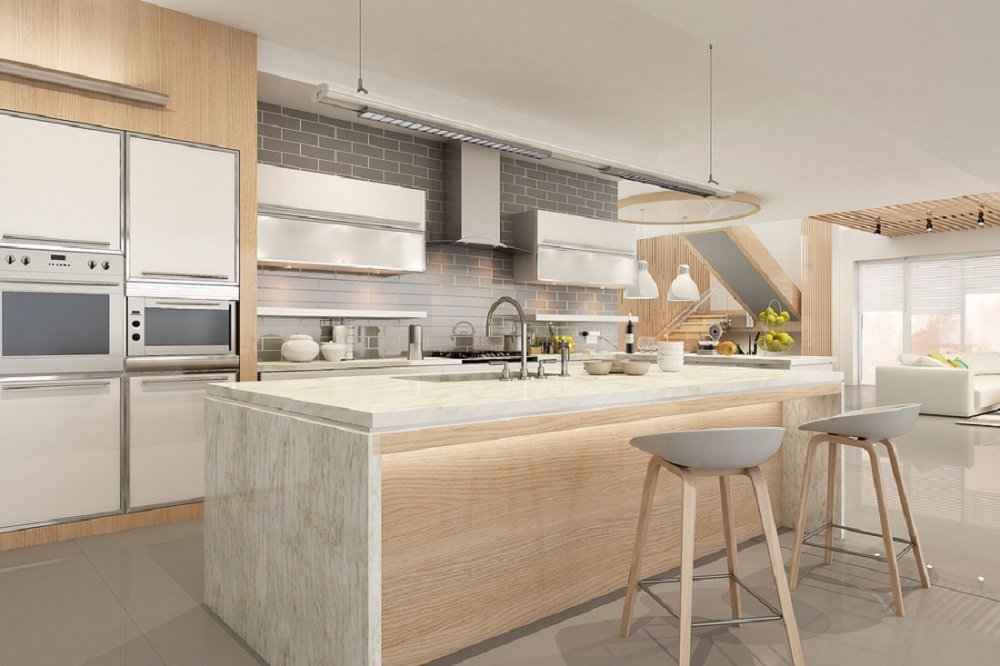 One size fits all no longer fits all when it comes to cabinetry. Homeowners are beginning to design cabinets that specifically match their needs and aesthetics.
Our Countertop Suggestion:
We suggest pairing those custom cabinets with something clean and simple. Pairing our Q Quartz in Frost White or Snow white will allow your cabinetry to be the star of the show.
Clean and Subtle Designs
To guarantee long-term design flexibility, cabinetry styles have become simpler, using precise lines. As the modern style continues to increase in popularity, this design makes sense for anyone looking to upgrade his or her kitchen cabinets.
Our Countertop Suggestion:
With your cabinets more subdued, this is your chance to explore some, more exciting, stone countertop options. We suggest going for a bold color, like Peacock Green or Dynamic Blue, or a striking pattern like Rain Forest.
Shaker Style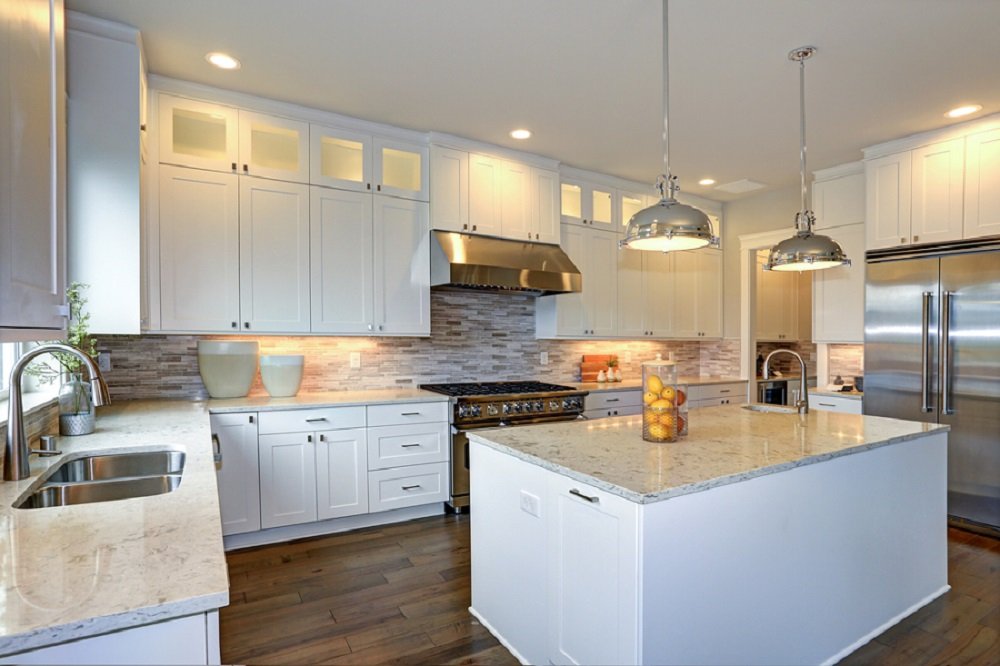 Shaker style cabinets have remained popular in kitchen design for years. With its uncomplicated design, shaker cabinets let the cabinet's material do the talking.
Our Countertop Suggestion:
With the cabinet's material calling the shots, we suggest pairing them with natural stones like Caledonia or Giallo Rio for a warm, earthy feel.
Shaker cabinets don't only work well with granite. Our Jasper quartz project is also a perfect match.
Neutral Color Palettes
White kitchen cabinets have always been, and probably always will be popular. However, other neutrals, like gray, have begun to compete with this stable color scheme.
Our Countertop Suggestion:
Depending on your design tastes, you can either pair neutral cabinets with neutral countertops like our New Kashmir White or you can contrast with something like our Amadeus granite.
Functional Design
Homeowners should never have to sacrifice function for design or vice versa. Cabinet designers have begun to create kitchen cabinets that not only look beautiful but also accommodate your kitchen's demands for better storage, organization, and access.
Our Countertop Suggestion:
We suggest you keep it simple, pair it with clean quartz like the Caesarstone Shitake or the Q Quartz in Ash Gray.
Horizontally Orientated Cabinetry
As cabinets become wider, there is less of a need to stack cabinets, but you always can if you need additional storage. A horizontal cabinet not only makes ground access much easier but also gives your kitchen a cleaner more refined look.
Our Countertop Suggestion:
Add some texture to your space with one of our special granites like our Blanco Perla or Blanco Taupe.
Dark and Brooding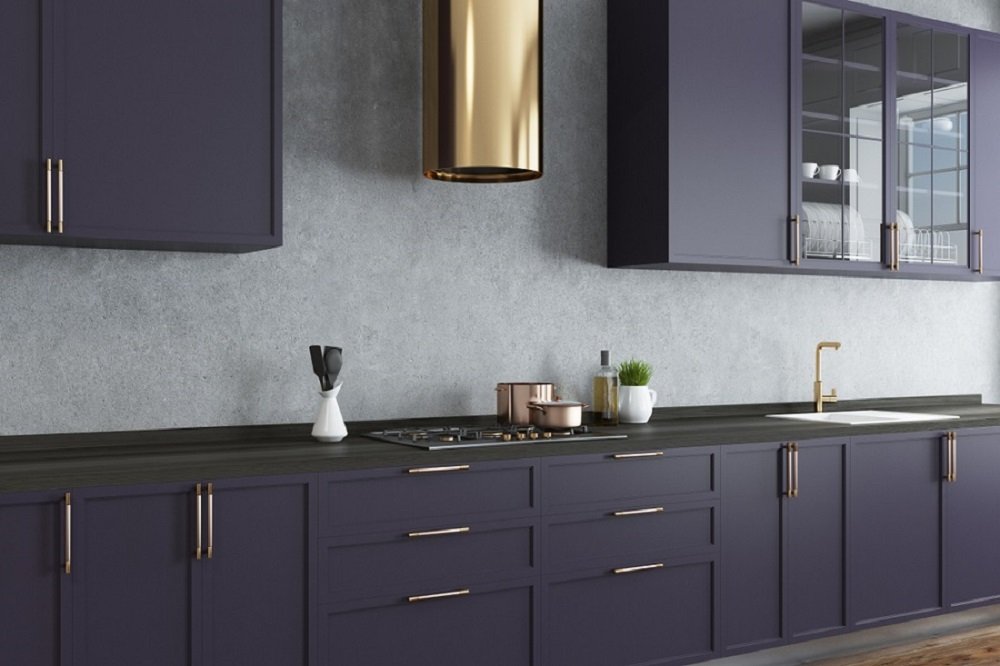 Believe it or not, dark wood cabinetry is making a comeback this year. We know – everyone loves the sleek look of white cabinets, but kitchen cabinet color trends change. However, a dark, deep cabinet can warm up your space (and won't require as much cleaning as white!). This can range from a rich brown to a black cabinet – the perfect contrast in a bright kitchen.
Our Countertop Suggestion:
Our countertop recommendation depends on the lighting in your kitchen. Have a lot of natural light? Be bold and go for dark granite countertops with dark cabinets for a sleek look we love. For this, we recommend Black Antique Granite or, for more texture, Black Galaxy. If you're looking for a brighter look that provides contrast between your cabinet and countertop, we recommend our Q Quartz in Calacatta Trevi.
Go Green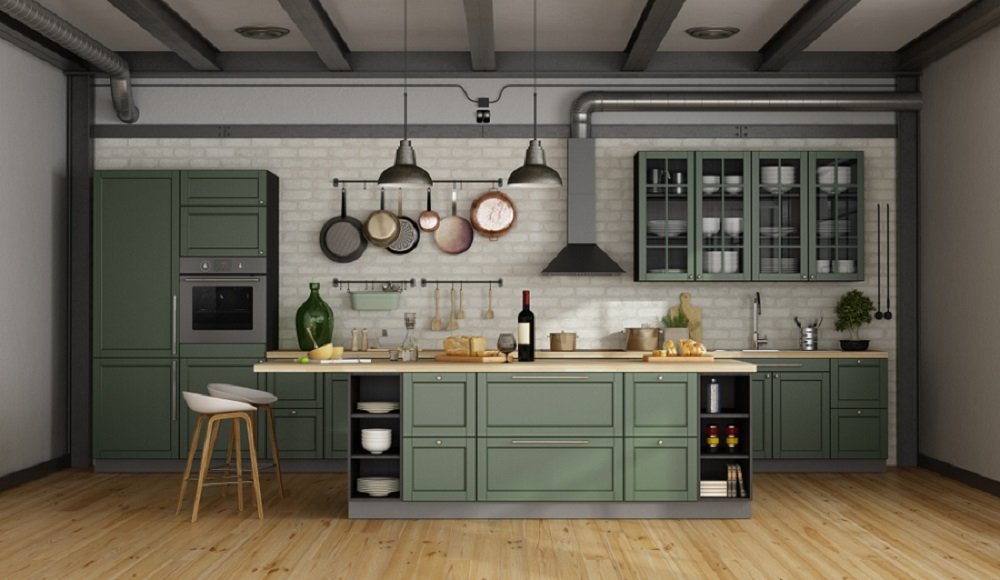 Give your kitchen an update by trying new popular kitchen cabinet colors. Cabinet color trends are ever-changing, but the nature-inspired choice of emerald green is sure to give your kitchen pop. A green hue gives your kitchen a bold look that's sure to impress and provides your space with a customized finish.
Our Countertop Suggestion:
To compliment your new cabinet color, we suggest our granite stone in Brownie. This rich brown stone will bring out the jewel-tone of your new, bold cabinets.
Two-Toned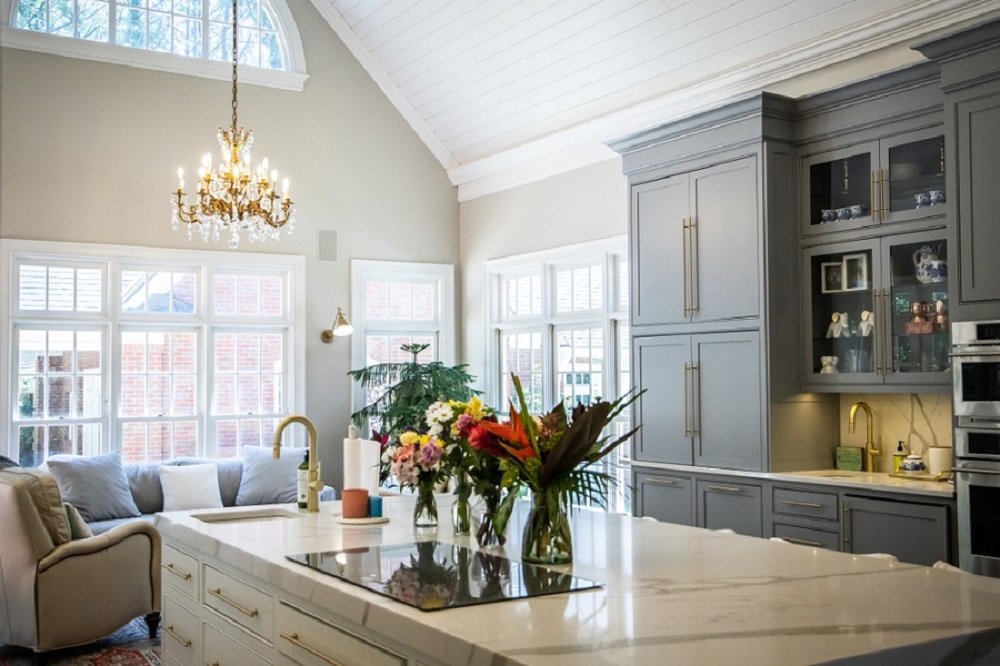 Not quite ready to cover all your cabinets in one of the latest cabinet color trends? No problem. Combine kitchen cabinet trends by opting for not one, but two different cabinet colors. For this popular trend, we recommend combining a bright color with a neutral to get a cool contrast. This can be done with bright blue cabinets and a contrasting white, or even mixing in some wood, selecting a trendy green cabinet color to contrast against more classic oak cabinets.
Our Countertop Suggestion:
When working with two-toned cabinets, we recommend keeping countertops simple. White countertops with oak cabinets create a sleek, neutral kitchen, and a contrasting pop of color will perfectly liven the space without mismatching your countertop selection. Whether you go for wood and colorful pop or opt for a white contrasting cabinet, a white countertop is a way to go. We recommend our Q Quartz in Arctic White to perfectly tie together your space.
Open Concept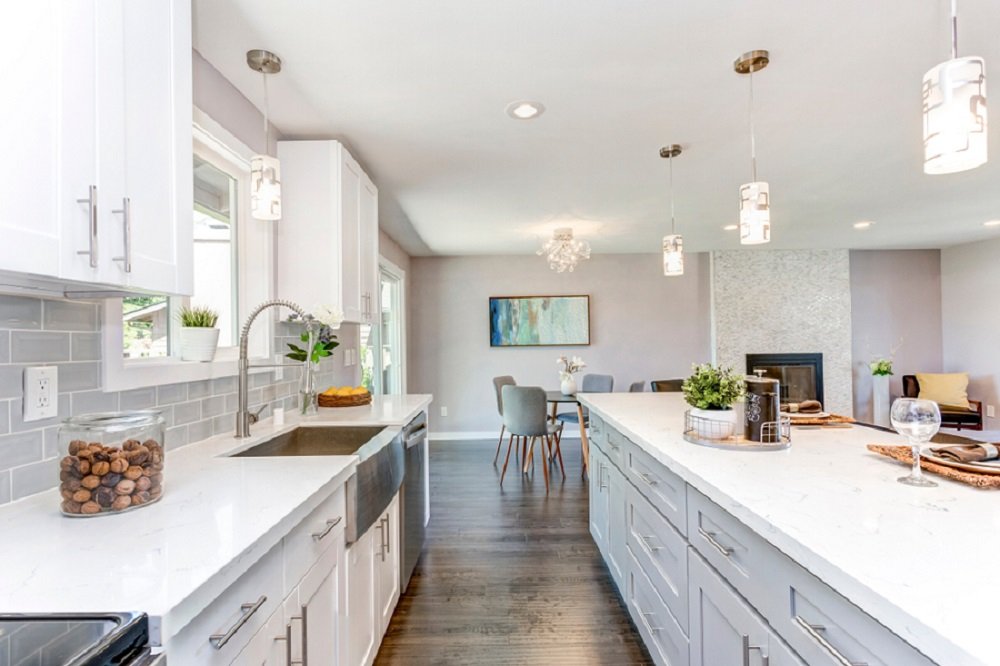 We know open-concept home layouts are all the rage, and it's also one of the latest kitchen cabinet trends. To make your space look larger, and show off all your favorite dishware, open-concept cabinets are the way to go. Best for the neat-freak, this trend will make your kitchen feel super aesthetic. Not totally sure you can keep it ultra-organized? Throw in a few frosted cabinets to hide your kitchen knick-knacks.
Our Countertop Suggestion:
Your countertop selection will depend on what cabinet color you choose to ensure kitchen cabinets and countertops match. For this trend, we love a stone like our Q Quartz in Bayshore Sand to provide a clean and even countertop choice, no matter the cabinet color you choose.
Matte Matters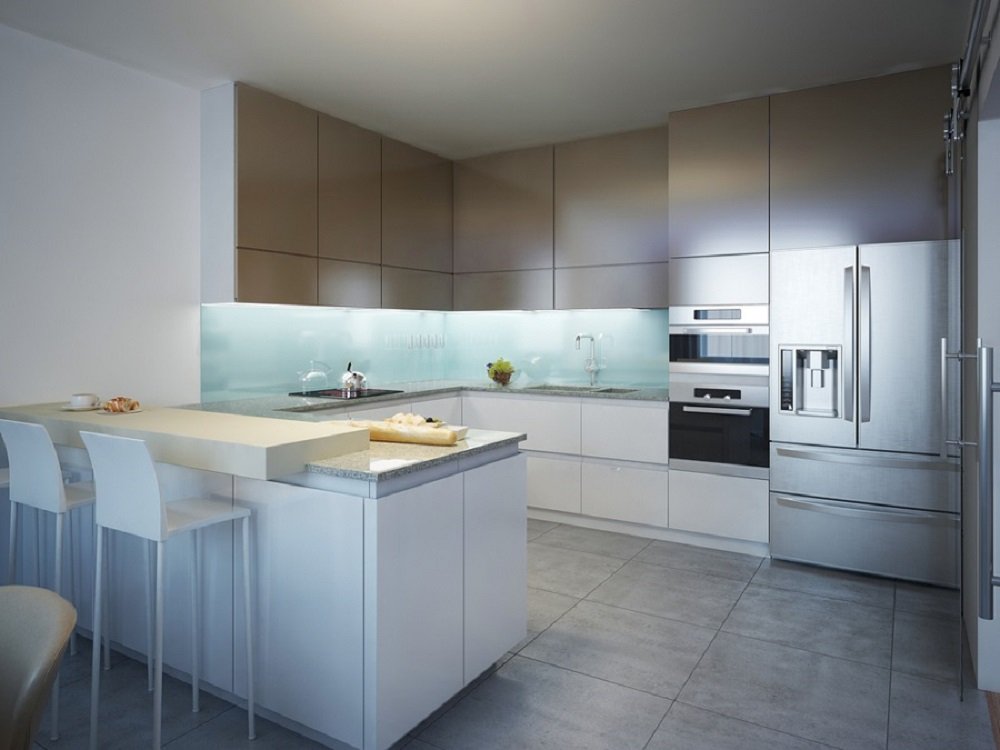 Over the high-shine look? Time to make it matte. From matte cabinets to hardware with no shine, you can totally mattify your kitchen from top to bottom. It's a simple, subtle change – perfect for someone that is curious about the latest kitchen cabinet trends and wants a more muted choice.
Our Countertop Suggestion:
Mattify both your kitchen cabinets and countertops easily with a low-shine stone countertop. For a darker option, we recommend our Cambria Quartz in Blackpool Matte. For a lighter countertop that's not totally matte, choose our Q Quartz in Alabaster White.
Conclusion
There are a lot of new, popular kitchen cabinet colors this 2021-2022 season. From two-toned cabinets to darker hues and matte finishes, there's a trend for everyone (and a countertop to match!).
No matter what trend you choose for your kitchen remodel, we have the perfect countertop at Granite Selection to complete your renovation. Call us at 888-906-3317 to start exploring your countertops today.
About author