Introducing the New Granite Countertop Cost Estimator!
by Paul Batashev
Updated: June 18, 2021
Kitchen countertops are one of the main focal points of the kitchen, so the task of choosing the perfect granite color, cut, countertop edges, and a sink is extremely important and can be daunting. Adding a strict budget on top of that can cause people to panic and run from the beautiful and durable stone to cheaper, weaker materials. That's where our new Granite Selection Cost Estimator Instant Quote tool comes in.
Measure It Out
Using our new Granite Countertop Cost Estimator Instant Quote tool is quick and easy. In order to approximate the cost of your granite, you first need to measure the area of your countertop. If you do not know how to appropriately measure a countertop, download our free eBook How to Measure the Area of your Countertop in Just 5 Steps  or schedule a free in-home measurement appointment with one of our granite specialists.
Make Budgeting a Breeze
Once you have the area of your countertop in square feet, simply enter the square footage into our Instant Quote tool. Next, select the type of material you are interested in using, the color, stone, edge styling and type of sink you want. Click "Calculate Your Project" and voilà! You're done!*
The Granite Selection Difference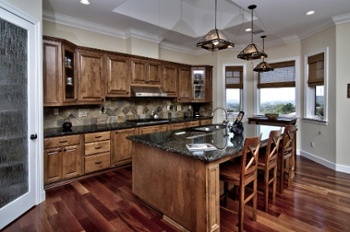 At Granite Selection, we believe that everyone deserves the kitchen countertops of his or her dreams regardless of their budget. Which is why we have built our business on the mission to supply the greatest selection of granite countertops at the most affordable prices, to help you achieve your luxury kitchen without the luxury price tag. Use this quote tool to experiment with different materials and colors to ensure that you are getting the highest quality kitchen countertop for your budget.
But before you use our new quote tool, check our many countertop projects to get inspired for your kitchen remodel!
*Our Instant Quote tool does not include installation fees. To get more information on installation, call (888) 906-3317 or email us at info@graniteselection.com
About author