How to care for quartz countertops
February 27, 2018
Quartz is one of the most durable stones in the world. While it can handle different elements, quartz is not impenetrable to spills, heat, and cuts. Therefore, it is essential to know how to care for quartz countertops.
Otherwise, you shorten the lifetime of your quartz countertop. Even if you protect the countertop, you cannot keep the original luster of your beautiful countertop without regular cleanings.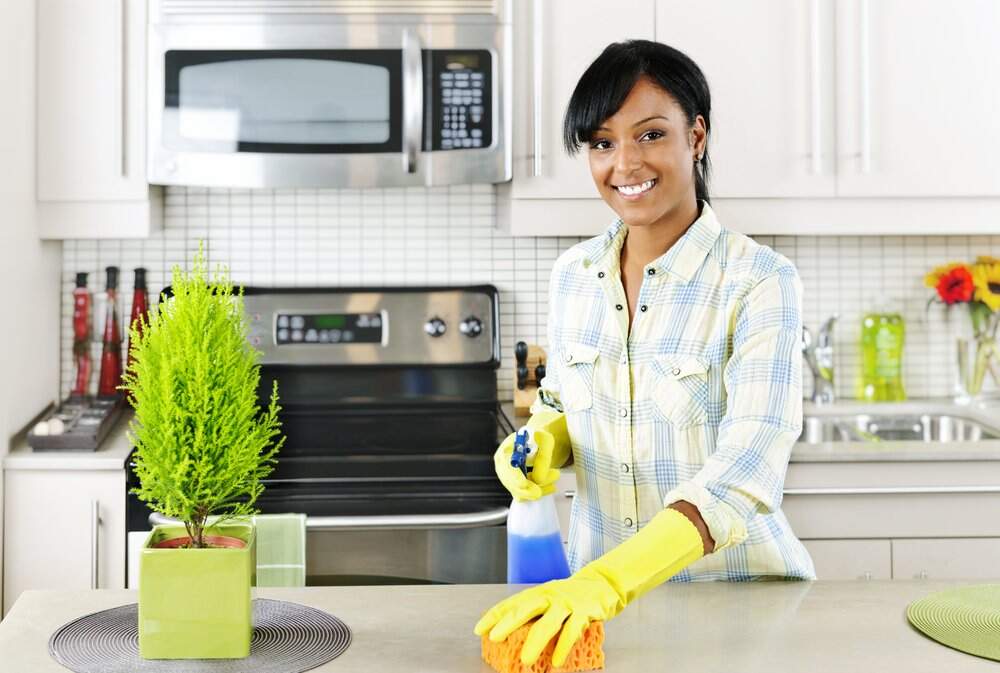 How do you clean your quartz countertops?
#1. Daily quartz cleanings
For your everyday cleaning, you can get away with hot water and a rag or sponge to clean and clear out the spills and crumbs.
The idea is to clear out the daily dirt, debris, and dust that comes from regular usage.
#2. Weekly quartz cleanings
Even with daily cleanings, you need to remain vigilant. Once a week clear the counter, so you can dust off the debris on the quartz stone.
Thanks to your weekly cleanings, you can maintain the long-lasting luster of the stone.
#3. Monthly quartz cleanings
Do you want to show off your quartz countertop for years to come? Then you need to do a monthly quartz cleaning as well.
This cleaning is more of a polish. Spray the stone, and then wait 10 minutes. Then wipe it off with a rag. Doing this monthly enhances stone.
It is like waxing a car. The resulting shine does not provide much protection to your quartz countertop. Instead, it augments your daily and weekly cleanings.
#4. Yearly cleaning
Here's a surprise you might like if you had a marble or granite countertop in the past. You do not need an annual re-sealing like you would for other stone countertops.
That is because quartz never needs to be resealed. It is a maintenance-free stone, which means you do not need to do the more extensive cleaning and repairs that other stones require.
Therefore, you do not need to have a yearly resealing.
How to care for quartz countertops 
Here are a few quartz care tips to keep your countertop in top shape.
#1. Clean spills up immediately
Spills are a part of life. However, do not let them linger or they could stain your countertop. Be especially vigilant with acidic substances like wine, coffee, soda, and cooking oils. You must clean them before they dry.
#2. Use a sponge or soft cloth
While your quartz counter is sturdy, it is not impenetrable. Do not use an abrasive scouring pad. These often scratch the surface of your quartz counter. A sponge or soft cloth get out most of your basic spills and stains.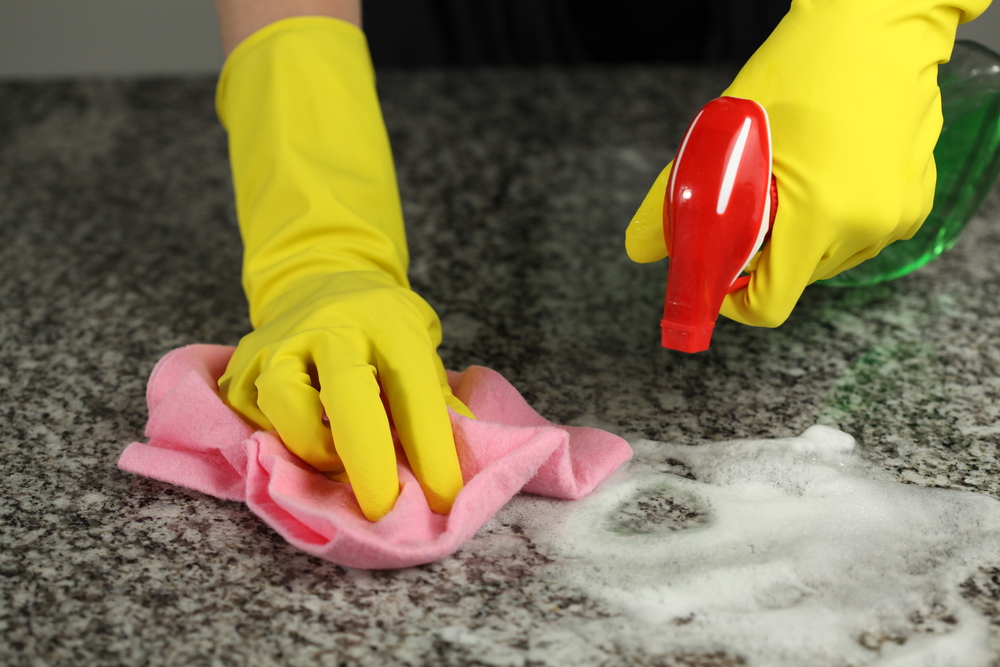 #3. Use hot water for quick cleanups
If you need a more stringent clean, use a natural stone cleaner to keep your quartz countertop in the best shape possible.
#4. Be careful of the cleaners you use
It is okay to use dish soap occasionally for a spill. However, repeated use builds up mildew and dulls the shine.
Generic cleaning products like high alkaline products (e.g. bleach) can harm your countertop as well.  On the flip side, avoid highly acidic cleaners like glass cleaner, degreasers, or conventional household cleaners.
The list of cleaners to avoid also expands to bathroom, tub & tile, or grout cleaners. All are too harsh on your quartz countertop.
The same goes true for organic cleaners like vinegar, ammonia, lemon, and oranges. They have a high acidic value.
Look for cleansers specially formulated for stone surfaces. They will protect the stone and keep it clean.
#5. Use Coasters, Trivets, and Hot pads
Do NOT place hot items directly on your quartz countertop. While they can withstand heats of up to 300° F, this often is not enough for a hot pot or pan.
The rapid increase in heat can potentially crack the quartz counter, or cause discoloration.
Additionally, cups filled with hot tea, coffee, and other hot beverages could cause problems over the long term. You should not place them directly on a quartz surface.
#6. Cutting boards
Remember it is a countertop, not a cutting board. While the quartz stone is strong enough to handle you using it as a cutting board, you will not enjoy the cut marks left over afterward.
It is better to crack a $30-100 cutting board with a knife than your premium countertop.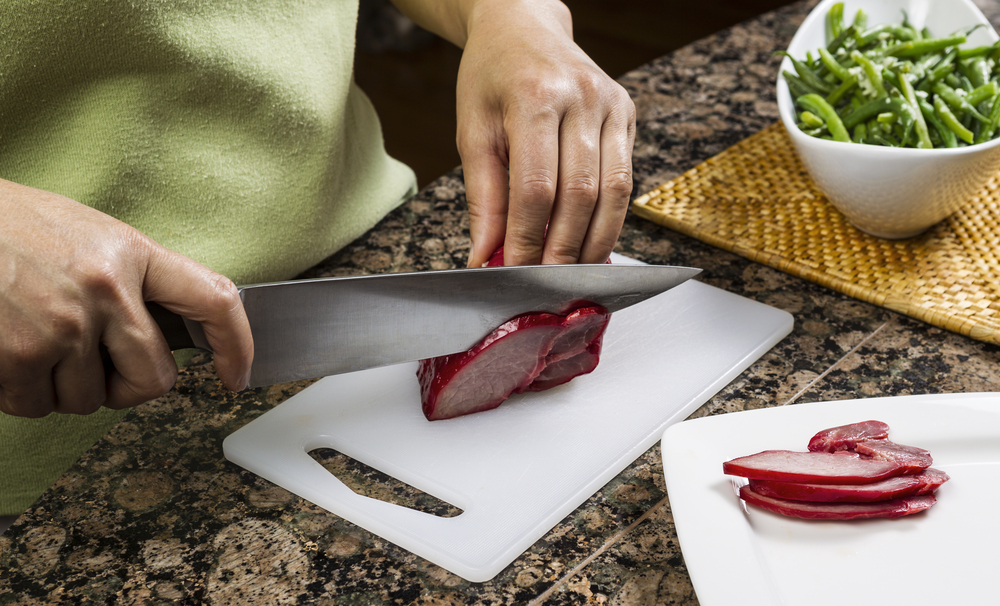 #7. Use a plastic putty knife
If you have kids, then you know how random items including gum, food, nail polish, or paint magically appear on your counter. If these items dry, you should use a plastic putty knife.
It will remove the item and is not as abrasive to your surface as a metal putty knife would be.
#8. Protect from permanent markers
Another concern is for those who have kids or crafts. When you play with a permanent marker in the kitchen, you could mark up your premium countertop. Do your best to protect the surface of your quartz countertop from a permanent marker.
As the name states, it could be permanent.
#9. No sitting or standing
Probably goes without saying, but you should not sit or stand on your quartz countertop. While it is a durable stone, it is a counter. Do not use it as a seat or platform to stand on when you want.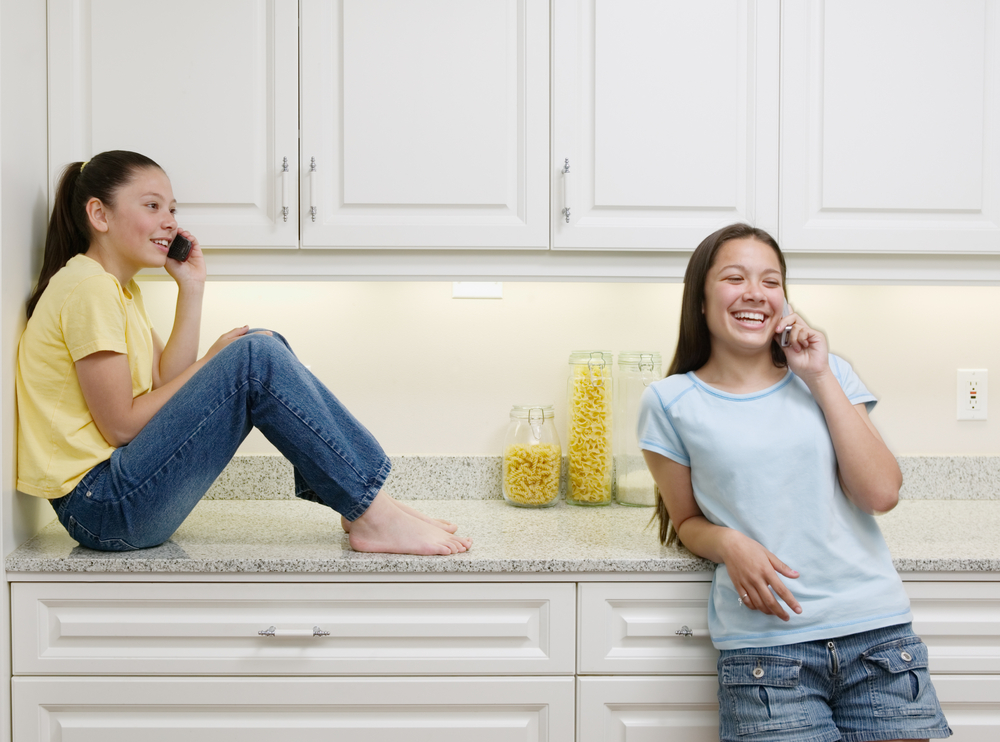 Final Thoughts
Do you have further questions about how to care for quartz countertops, contact our team today?